OUR MILD STEEL FIREPITS
These garden Mild Steel Fire burners are hand worked from sheets of 2mm Mild/Carbon steel. The level of carbon introduced to this alloy, (approximately 0.2%), has been carefully balanced to provide durability, whilst ensuring it remains sufficiently malleable to achieve our distinctive bowl shape. The steel will continue to rust as soon as it is exposed to the elements. The striking patina this creates will continue to develop over many months, so we do not recommend that these burners are placed on surfaces that are liable to stain as run-off may occur. These burners will provide years of service.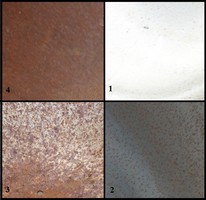 MILD STEEL WEATHERING GUIDE
When you first receive your Mild Steel products, they will arrive in an un-weathered or partly weathered condition. The best way to manage your Mild Steel products is to let the weathering process naturally occur. On exposure to the elements, the steel will begin weathering and gradually develop its own striking patina. Each stage is explained in more detail below to help you understand where in the process your Mild Steel is, and what to expect next:
Stage 1 – Freshly manufactured Mild Steel. At this stage, the material is a shiny silver.
Stage 2 – The silver is beginning to break down, as the Mild Steel begins to weather.
Stage 3 – The Mild Steel continues to develop, this can take around 3-6 months depending on weather and positioning.
Stage 4 – The final stages of the weathering process gives the Mild Steel a dark rust finish.
GET IN TOUCH
Looking for advice or have a question? You may find the answer in our FAQs here. Alternatively, fill out our quick form below and we'll put you in touch with the right person in our team! We'll get back to you by the end of the next working day.