INTRODUCING OUR CORTEN STEEL PLANTERS
Are you looking to add a touch of industrial elegance to your garden? Corten steel planters provide a beautiful, distinctive, and ultra-durable option for redesigning your outdoor spaces.
Our corten steel planters develop a protective rust patina when exposed to the elements, and this naturally occurring layer acts as a shield against corrosion, which makes them perfect for any outdoor setting. Discover the full range today and give your plants the edge they deserve.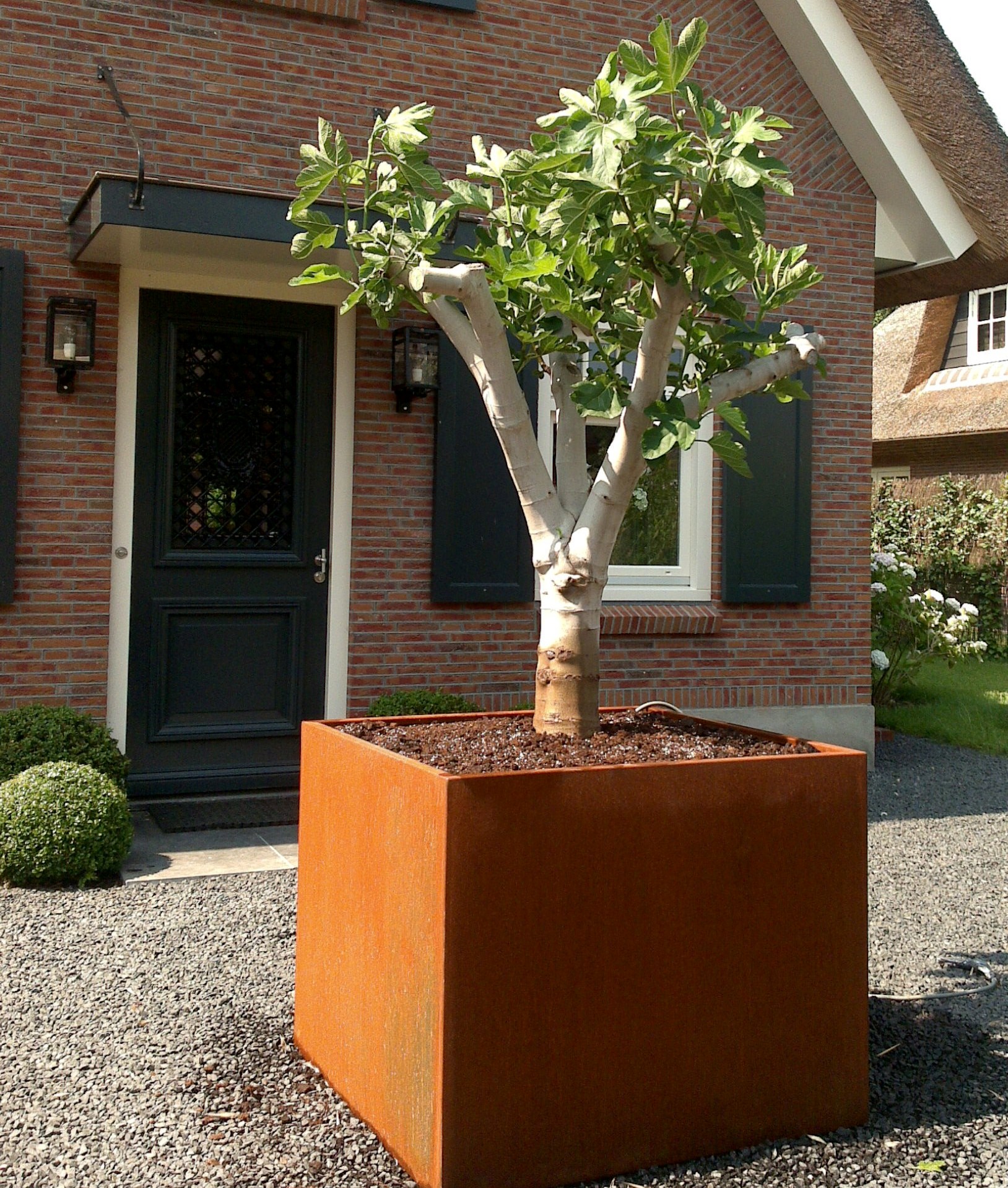 Guide to Weathering Your Corten Steel Planter
Phase 1 – Newly produced corten steel. During this phase, a dense, dark oily substance envelops the surface of the corten steel.
Phase 2 – The oily residue initiates its degradation as the corten steel commences its natural weathering process.
Phase 3 & 4 – The 'Run-Off' phase. This period spans approximately 3 to 9 months, with the right orientation and conditions.
Phase 5 & 6 – The conclusive stages of the process, when the corten steel embodies its signature rusty patina.
The Strength of Our Corten Steel Planters
With their modern yet rustic vibe, corten steel planters infuse your garden with character and sophistication. The rich, natural patina adds depth and visual interest, complementing both traditional and contemporary landscaping styles.
But that is not all. When you choose a corten steel planter from Round Wood of Mayfield, you can expect: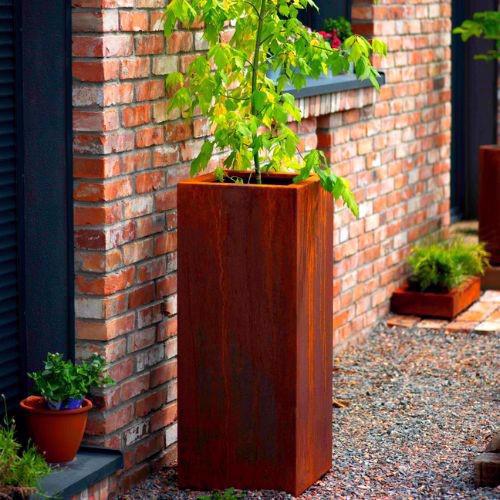 Durability That Withstands the Elements
Corten steel is renowned for its incredible durability and weather resistance. The material develops a thick, protective rust patina after just a few months of exposure. This patina is able to withstand even the harshest outdoor conditions, year after year.
Our corten planters can brave all seasons, from sweltering summers to icy winters, while still looking beautiful. No more replacing flimsy planters every few years, our corten steel options are built to last decades.
Low Maintenance Compared to Other Materials
Life gets busy, and our corten steel planters are here to save you precious time.
Once the protective rust layer develops, no further maintenance is needed. That means no painting, staining, or other upkeep is required. Simply enjoy the maturing patina as it enhances the character of your garden landscape over time and preserves the integrity of your new planters.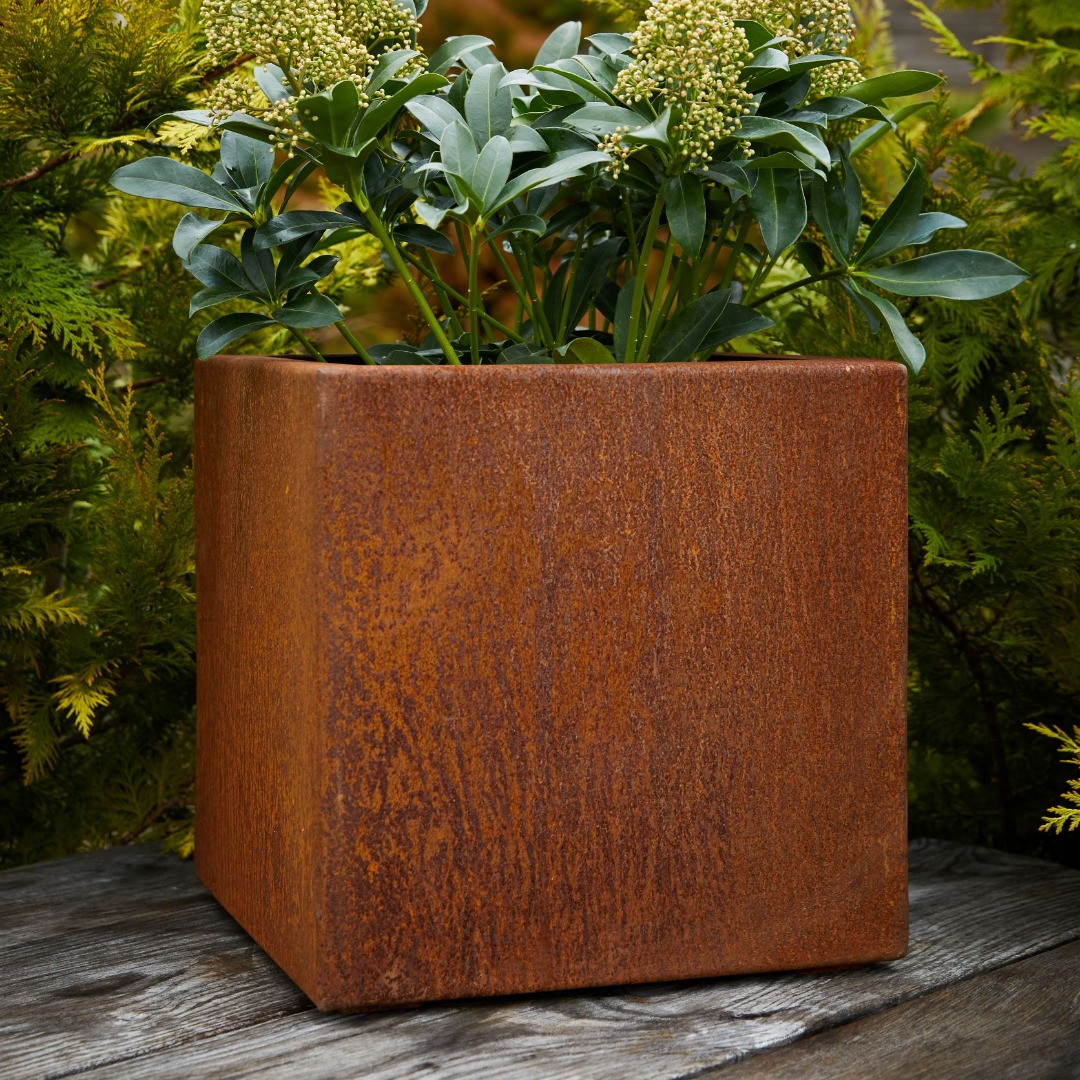 A Unique, Eye-Catching Aesthetic
The rustic yet modern appeal of weathered corten steel transforms gardens into unique works of art. The rich, textured patina and orange-brown rust tones add striking visual interest that stands out, no matter where it is placed.
Their timeworn finish pairs perfectly with flowers, succulents and other plants, so mix and match our corten planters to create a cohesive industrial look or choose contrasts for added drama. Corten steel allows you to achieve an upgraded, high-end look, effortlessly.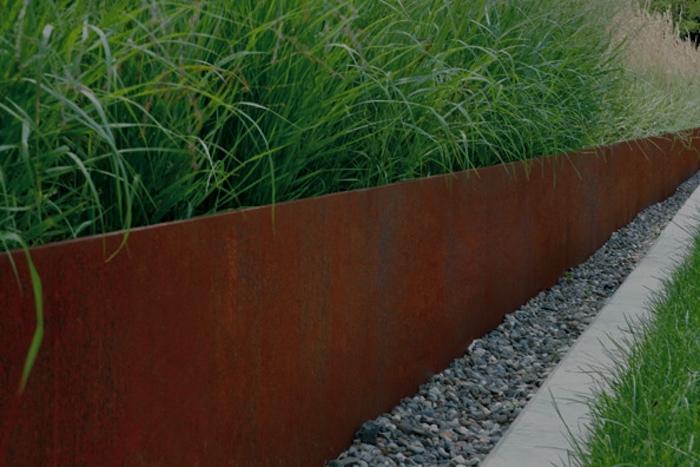 Eco-Friendly Design
Corten steel is environmentally sustainable and fully recyclable, making it the perfect eco-friendly choice. By investing in durable corten planters, you avoid the waste of frequently replacing damaged planters made of less green materials.
Feel good knowing your garden reflects your values.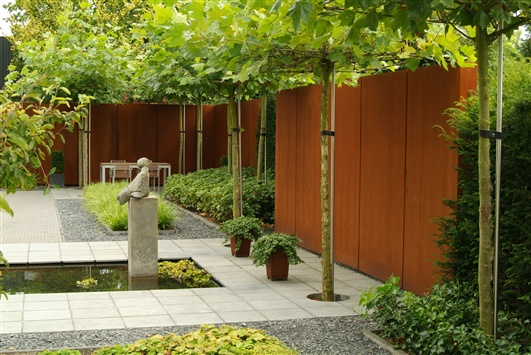 Unhindered Versatility
You can reinvent your garden anytime with corten steel's versatility.
Available in a range of shapes, sizes, and patina finishes, our planters give you full creative flexibility. Use squares, circles, troughs, and other shapes to complement your landscape design now, and then later, rearrange them to match a new layout or mood.
Our corten steel planters adapt to you over time.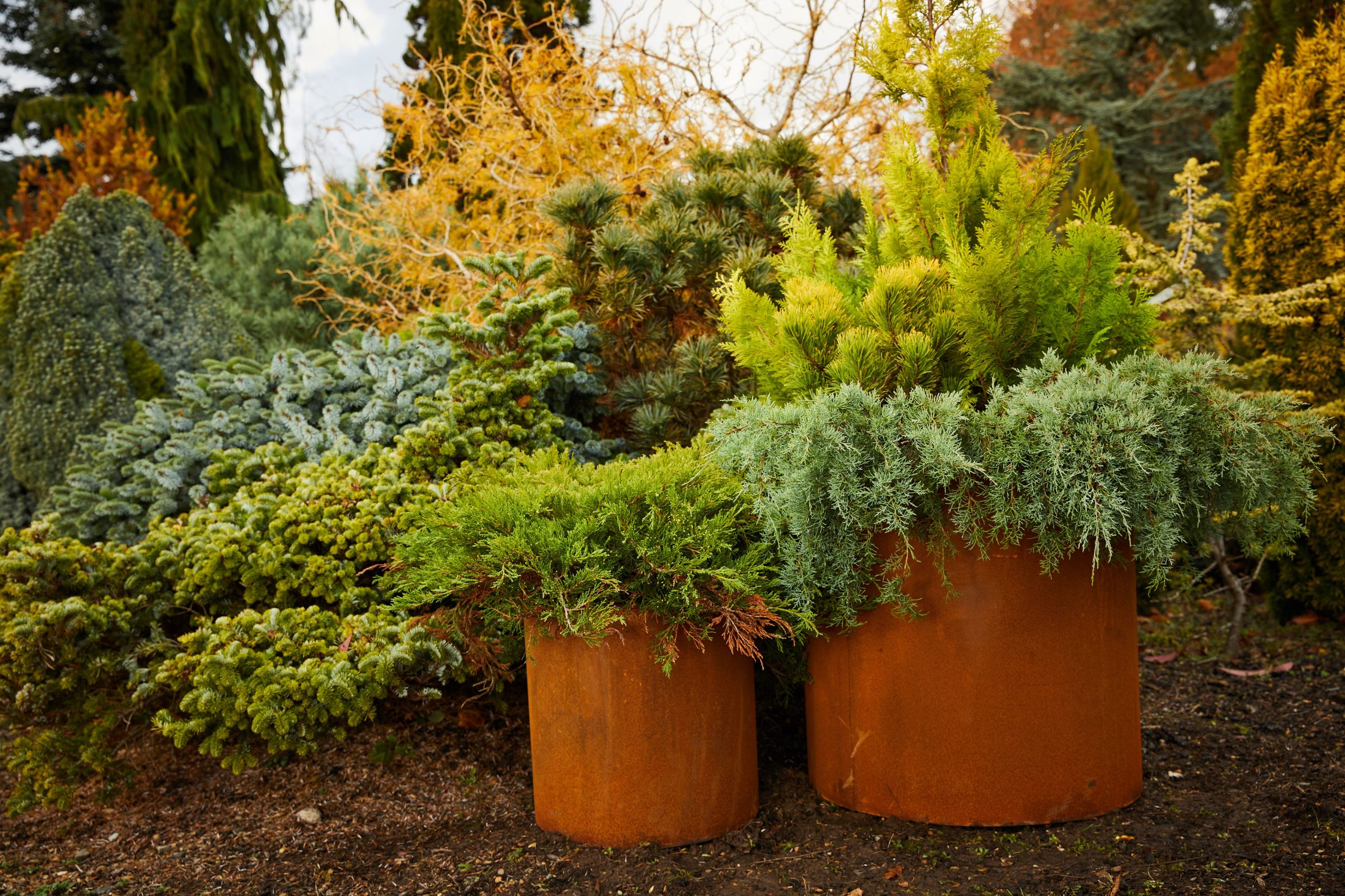 Quality at a Competitive Value
While priced higher than low-quality alternatives, corten steel provides excellent long-term value through enduring performance and minimal maintenance.
Our corten steel planters are competitively priced for their peerless quality, unique aesthetic, and extreme durability. For an investment worth making in your garden, look no further than Round Wood of Mayfield.
"Very good service I brought a water feature a steel bowl that goes rusty. Sounds strange but lovley delivery was quick and good."

Browse Our Range of Corten Steel Planters
With an extensive range to choose from, you are sure to find the perfect corten steel planter for your outdoor space. Choose from a variety of styles, sizes, and patina finishes to complement your garden aesthetic:
For a modern geometric look, select one of our square or rectangular planters. Their clean lines and crisp edges are perfect for a contemporary vibe. Options range from wide Rectan Low Cubic Boxes to narrow Barium Rectangular Troughs, both ideal for boundaries and privacy.
Make a bold statement with circular spheres and cylinders. The petite diameter of our Oren Flower Pots creates charming accents, while the imposing Cylindro High Cylinders command attention. For more organic appeal, you could explore oval and ring-shaped planters like the Pedes Low Cubes.
Define spaces and boundaries with long trough-style planters, like our Barium Rectangular Troughs that provide privacy and visual interest when used along fences or as edging. For smaller spaces, you could choose the compact Hones Barrier Troughs instead.
In addition to fixed planters, we offer raised beds to grow flowers, herbs and vegetables. The versatile Genus Triangular Raised Beds provide ample planting room, and box-style beds like the Unus Square Raised Beds keep plants neatly contained.
With minimal upkeep needed, our corten steel planters are designed to weather gracefully year after year, only becoming more beautiful as their patina matures.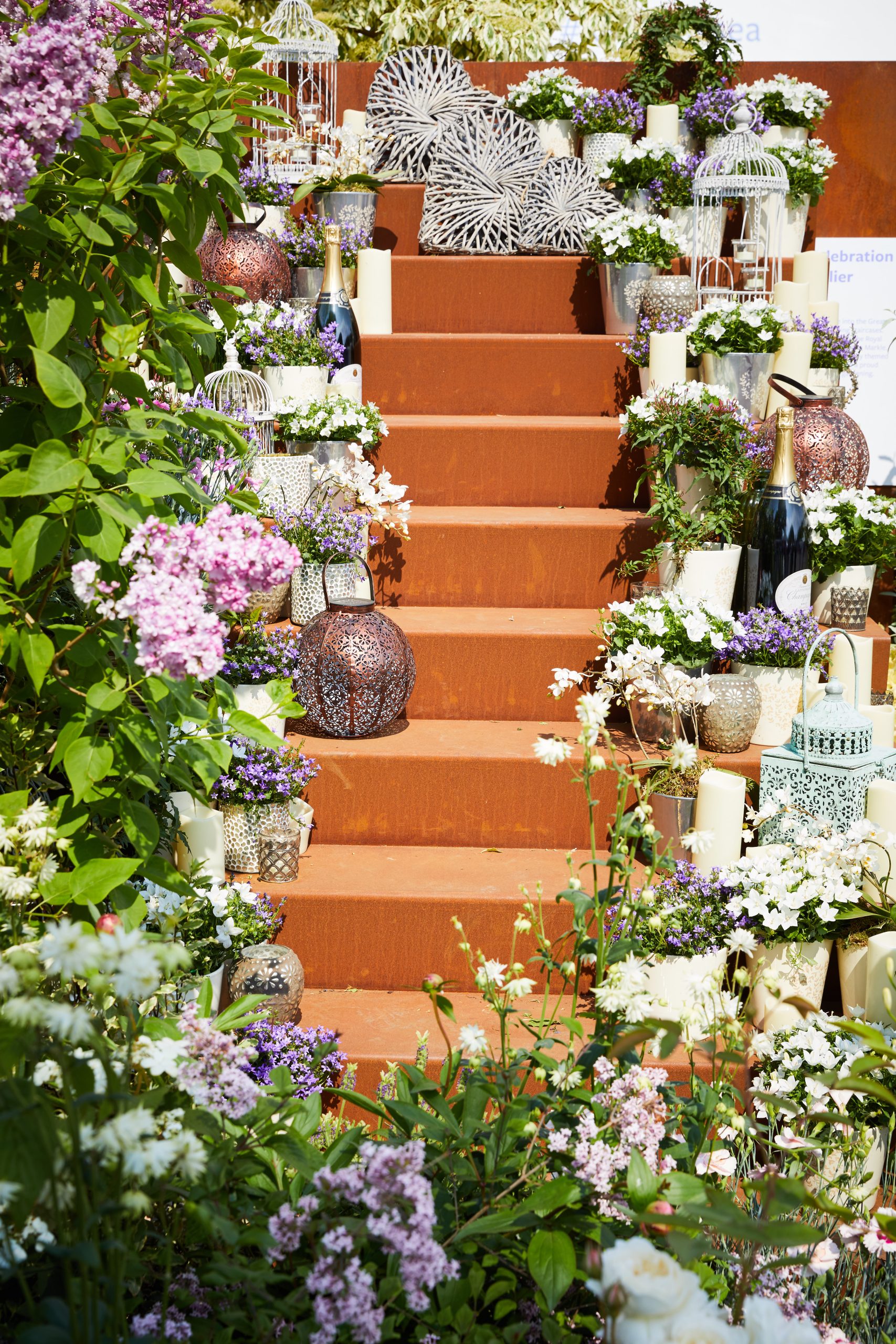 Why Choose Round Wood of Mayfield
When searching for that perfect garden feature to enhance your outdoor space, choose Round Wood of Mayfield.
For over 30 years, our family-run Sussex business has provided customers with beautiful, unique products backed by exceptional service. Our homegrown approach prioritises your satisfaction above all else.
Our team is passionate about the products we offer. From corten steel planters to designer garden furniture, we take pride in providing not just any outdoor products, but truly interesting, often one-of-a-kind pieces that evoke imagination.
On our ancient woodland site, visit our showroom to discover products you are unlikely to find anywhere else.
Find Your Perfect Corten Steel Planter Today
Browse our unrivalled range of expertly crafted shapes, sizes, and patina finishes to find the perfect fit for your garden. Have a specific vision in mind? Get in touch. Our team happily provides tailored advice to help you bring your ideas to life.
Discover the difference of choosing a passionate local business.
Typically, around 6 to 9 months.
Yes, we have a wide range of sizes. Please see the product pages on our website to see a drop-down list of available sizes.
Yes, Corten steel resists the corrosive effects of rain, snow, ice, and fog by forming a protective coating over the metal. Corten steel is completely non-porous, meaning that water cannot get into the material to then freeze and effect it.
Yes, it could. Whilst your corten steel item is weathering it will produce a lot of carbon run-off (very fine particles of oxidized metal – rust), which will stain any porous surface it is placed on to, such as stone patios and wooden decking. Once your corten item has completely weathered, the amount of run-off will be significantly reduced to almost nothing. However, there may still be some that could leave marks. The staining should be reduced with the use of a pressure washer. Once your corten item has weathered to a point you are happy with aesthetically, you can seal it using Owatrol Rust Oil. Please note – using a varnish on the corten steel will affect the colour by making it appear darker and 'wet'.