OUR FLOORING RANGE
Our oak flooring is produced from high grade European timber whether in solid form, or engineered - for use with underfloor heating if required. Our engineered flooring is of an extremely high quality and features a thick wear layer of oak, which offers the look of solid whilst being far easier to store, fit and maintain. Complementary products include underlay, oils, trims and skirting. We also offer Walnut flooring in engineered form and thermo-treated ash boards from the Thermory® collection for those looking to achieve a rich and high-end aesthetic. It is advisable that a 10% wastage factor be worked into your calculations when planning your project.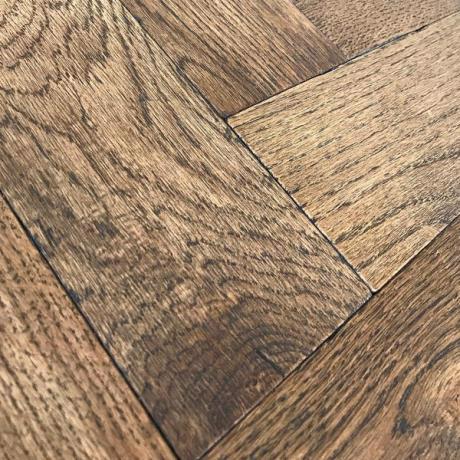 FLOORING SAMPLES
We are happy to send out small samples of our flooring free of charge. These will be sufficient to give you an indication of the grading and finish on the selected board style. Please note, however, that as flooring is manufactured from a natural product, board colouration can vary – even between those cut from the same tree. To request a sample simply call our sales team on 01435 867 072 or use our contact form to send us an e-mail.
FLOORING FAQS
Selecting a floor can prove a daunting task given that a number of decisions need to be made regarding type, style and fitting method. Our flooring FAQ's provide background information to assist with these.
Many customers have had solid Oak previously or know someone who has, and so like to stick with what they know and feel comfortable with. As such solid wood is usually the default choice when looking for flooring, as engineered flooring can be misunderstood and presumed to be inferior.
This, however, couldn't be more wrong. Engineered Oak flooring offers dimensional stability to a hygroscopic timber. This added benefit means Oak flooring can be considered for use in kitchens and bathrooms where solid boards wouldn't be the best choice due to the possibility of moisture. Once laid, engineered Oak flooring is almost indeterminable from solid, as the Oak veneer wear layer offers the same beautiful overall look as a solid board. An engineered board also boasts the fact that it is designed for use with underfloor heating. The cross bonded multiply backing allows heat to penetrate effectively while maintaining a consistent and stable floor.
As solid flooring is typically bonded to an existing floor, although can also be fitted to joists with the use of secret nailing. Therefore, within reason the thickness can be as the desired providing there is enough thickness for the tongue and groove and wear layer above the tongue (which is the surface area that can be sanded if required). We offer as standard 22mm thickness on both the rustic and antiqued solid Oak flooring.
Engineered flooring is available in a choice of thicknesses depending on how the flooring is being fitted. If the engineered board is being fitted onto joists, 21mm thickness is advised for structural purposes. If the engineered boards are glued directly to screed, an existing floor or being floated over an underlay then a 14/15mm thickness will suffice.
Solid oak flooring should be glued directly to screed or existing flooring with a flexible adhesive. The moisture content of the subfloor must be as low as possible (2% is recommended) to prevent the kiln-dried timber from absorbing any excess moisture and expanding as a result. A damp proof membrane can be applied before fitting to minimise any movement within the timber; often advised in period homes. Priming is advisable for preparing a concrete/screed subfloor prior to fitting because the condition of the subfloor is integral to the stability and performance of the finished floor.
Engineered flooring gives you more choice when it comes to fitting methods. Fitting onto joists can be possible using a 21mm thick board and can be secret nailed into place. Those looking to minimise sound reduction can float the engineered boards over an underlay, bonding the tongues and grooves together with a PVA glue. In addition to these methods, the boards can also be glued directly to screed or an existing floor, using an adhesive such as Lecol 5500 and Wakol MS260.
Yes. Treatex offers a range of tinted oils to be used on oak flooring once it has been laid. These wax oils allow you to change the tone of the wood without 'painting' over the timber. When applied, the oil is worked into the timber, generally bringing out the grain detail and enhancing the overall look of the oak. Once the chosen finish has been applied and allowed to dry, a coat of clear (matt or satin) should be applied. In addition to the above, if your floor is scratched or scuffed during its lifetime, Treatex can be used after sanding to help touch up the area in question, unlike lacquer which involves sanding the entire floor to re-apply. For more information on what finishes are available see our blog guide on Treatex colour tones.
GET IN TOUCH
Looking for advice or have a question? You may find the answer in our FAQs here. Alternatively, fill out our quick form below and we'll put you in touch with the right person in our team! We'll get back to you by the end of the next working day.