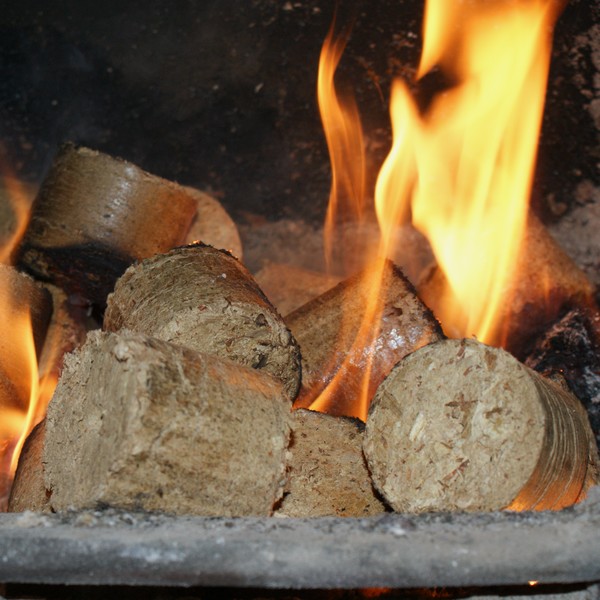 ECO-NUGGETS
Eco-Nugget briquettes are easy to ignite, are a cleaner and greener way to heat your home and make a great alternative to fossil fuels. Sold in quantities starting from 14kg boxes all the way to an 800kg super bag, we can help you stock up and keep warm all year round.
DEDICATED TO RECYCLING 100% OF OUR WOOD WASTE
As a company that works with pure, organic timber to create decking, cladding, flooring and even buildings, we found ourselves with a large quantity of timber waste. We were looking for an environmentally friendly way to solve the problem, and Eco-Nuggets are perfect for that. These nuggets have allowed us to reduce our timber waste by 100%.
Eco-Nuggets are produced by compressing, predominantly oak, sawdust from our onsite mill. The low moisture content provides a high, easy to achieve, burning temperature, allowing their customers to enjoy the warm glow for longer this winter.
Our mill produces an average of 900kg of Eco-Nuggets a day and they are perfect for campfires, home wood burners, fire pits and ovens (including pizza ovens). Being so natural, Eco-Nuggets produce no dangerous gases or waste during or after use. No chemical treatment is used to produce these environmentally friendly nuggets, just pure timber and a lot of compressions.
GET IN TOUCH
Looking for advice or have a question? You may find the answer in our FAQs here. Alternatively, fill out our quick form below and we'll put you in touch with the right person in our team! We'll get back to you by the end of the next working day.