OUR HARDWOOD DECKING RANGE
We cut, treat and supply a range of wide hardwood decking. From tropical Balau, Cumaru, Ipe and Angelim, to more traditional options such as sustainably sourced and harvested oak. Like oak, tropical hardwoods are extremely durable and will provide decades of service with little maintenance. However, they are also renowned for their impressive colourisations. Tropical hardwood decking boards tend to range from light to dark brown with orange or red undertones. When the different shades are fitted together, an impressive, eye-catching, rich, dark and unique deck is achieved, especially when wet (perfect for the British weather).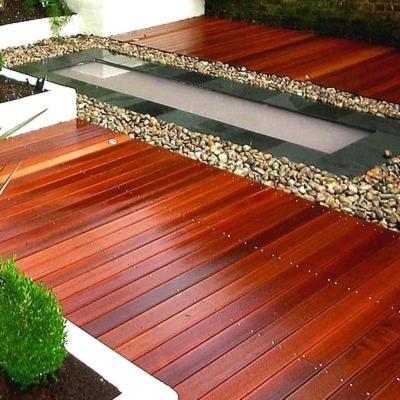 HARDWOOD DECKING
Many landscapers, builders and developers have found themselves fitting an increasing number of decks over the last 20 years. Whilst their rise in popularity was initially driven by the retail market – with homeowners looking to improve their landscapes – they are now also frequently specified in developments for use in a variety of situations, including garden, communal, roofing and balcony areas. Softwood decking boards have tended to dominate the market given their ready availability at low prices. Of late, however, there has been a shift in demand towards more attractive, high-quality hardwoods that, unlike their cheaper counterparts, offer a lifetime of service. Amongst these are Oak, Cumaru, Balau and, perhaps toughest of all decking timbers, Ipe. The latter is native to South America, where locals refer to it as 'Ironwood' given its outstanding durability, density and natural resistance to both insect and fungal attacks. It offers a century of service, even without treatment, and will look good all the while. Ipe features rich, dark grains which offer a contemporary, luxurious finish and boasts eye-catching colour variations, with sparks of red, green and brown. These properties have seen it move to the fore of the market, particularly over the last two years.
The development of the hardwood decking market has led to the innovation of a range of complementary products, including Balustrade Components such as handrail, base rail and posts.
A range of hidden fastening systems – that are not suitable for use with softwood given its propensity to shift – are now also available, such as the DeckWise System. Hidden fastenings allow decking boards to be fixed without the need for unsightly face screws, allowing them to be displayed to their full potential. As such, they represent a logical accessory for those who have the made the often significant investment in a hardwood deck. As the fasteners clip into the sides of adjoining boards, they require a groove to be routed into the timber with a biscuit jointer on site. Whilst this can prove time-consuming, the rewards are immediately there to be seen. Alternatively, we offer a unique pre-grooving service for decking boards that we supply.
We now offer Cumaru and Ipe Deck Tiles that offer easy and quick installation. Deck Tiles are perfect for renovating concrete decks, patios or balconies. Stainless steel screws are built-in, that slot into the 4 pre-drilled corners for easy installation using connectors. For more information, see our full range of Hardwood Decking Products.
To achieve an enhanced yet natural appearance on hardwood decking, decking oil may be applied. Treatex Bangkirai Oil was created for exotic timbers like Balau, Cumaru, Ipe.
GET IN TOUCH
Looking for advice or have a question? You may find the answer in our FAQs here. Alternatively, fill out our quick form below and we'll put you in touch with the right person in our team! We'll get back to you by the end of the next working day.