INTRODUCING OUR CORTEN STEEL COLLECTION
If you seek distinctive and sustainable outdoor elements that gracefully age and complement the natural landscapes they are set into, then you have come to the right place.
At Round Wood of Mayfield, we are proud to offer the UK's most premium selection of corten steel garden features, including planters, raised beds, water features, and more.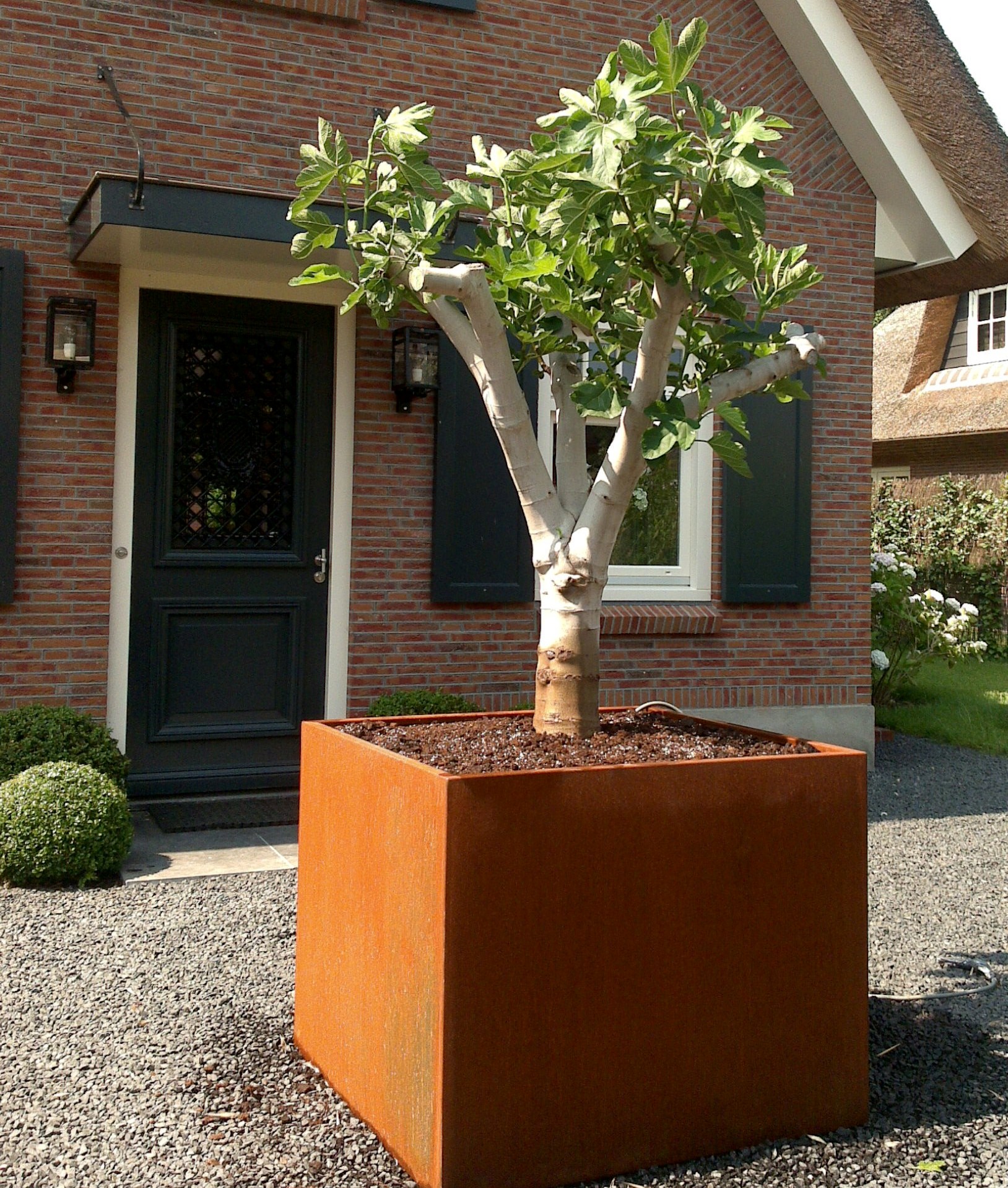 What is Corten Steel?
Corten steel, also known as weathering steel, is a unique building material that brings timeless character to outdoor spaces. Made from a proprietary alloy containing copper, chromium, and nickel, corten steel develops a stable, rust-like appearance when exposed to weather and the elements. 
Corten steel first emerged in the 1960s, becoming popular in architectural and landscaping applications for its handsomely weathered, high strength, and corrosion resistant finish, which made it ideal for planters, water features, sculptures, wall cladding, and more.
At Round Wood of Mayfield, we are thrilled to offer this premium landscape metal, crafted to enhance your surroundings as beautifully as natural stone or aged wood. 
Discover modern metals infused with an authentic sense of history today.
Why the UK Is Choosing Corten Steel
Our range of corten steel garden features are unmatched in their benefits, which is why homeowners across the UK are choosing them.
When you rely on Round Wood of Mayfield for corten steel, you can count on: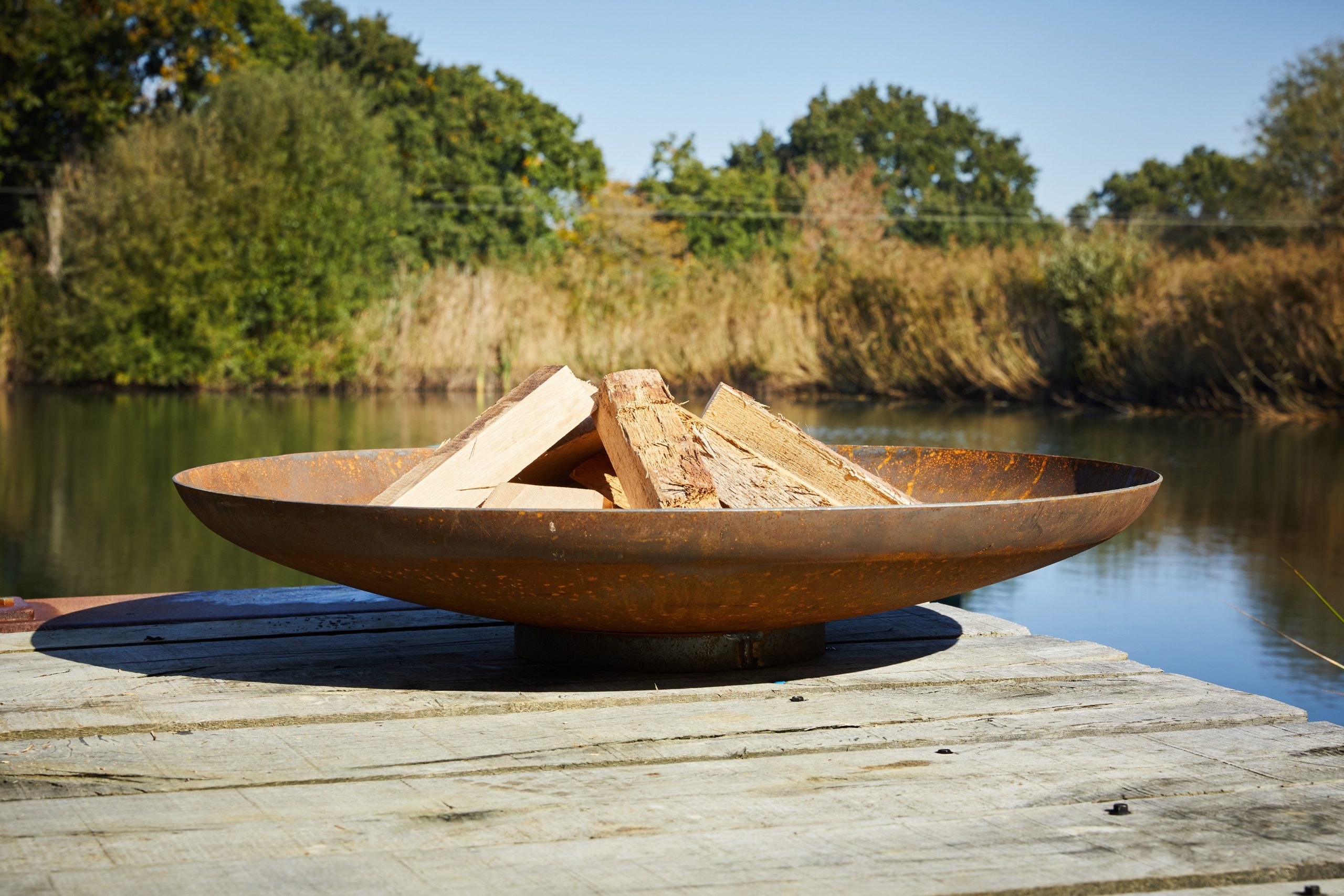 Unmatched Performance and Durability
Beyond its visual appeal, corten maintains its integrity through decades of natural exposure, resisting abrasion, salt damage, and even UV rays.
This combination of structural integrity and graceful aging has made corten steel a coveted material among designers, architects, and discerning homeowners. Its natural yet refined look elevates gardens and outdoor living spaces as a premier, upscale design choice. Exuding the warmth of rusted iron and the solidity of stone.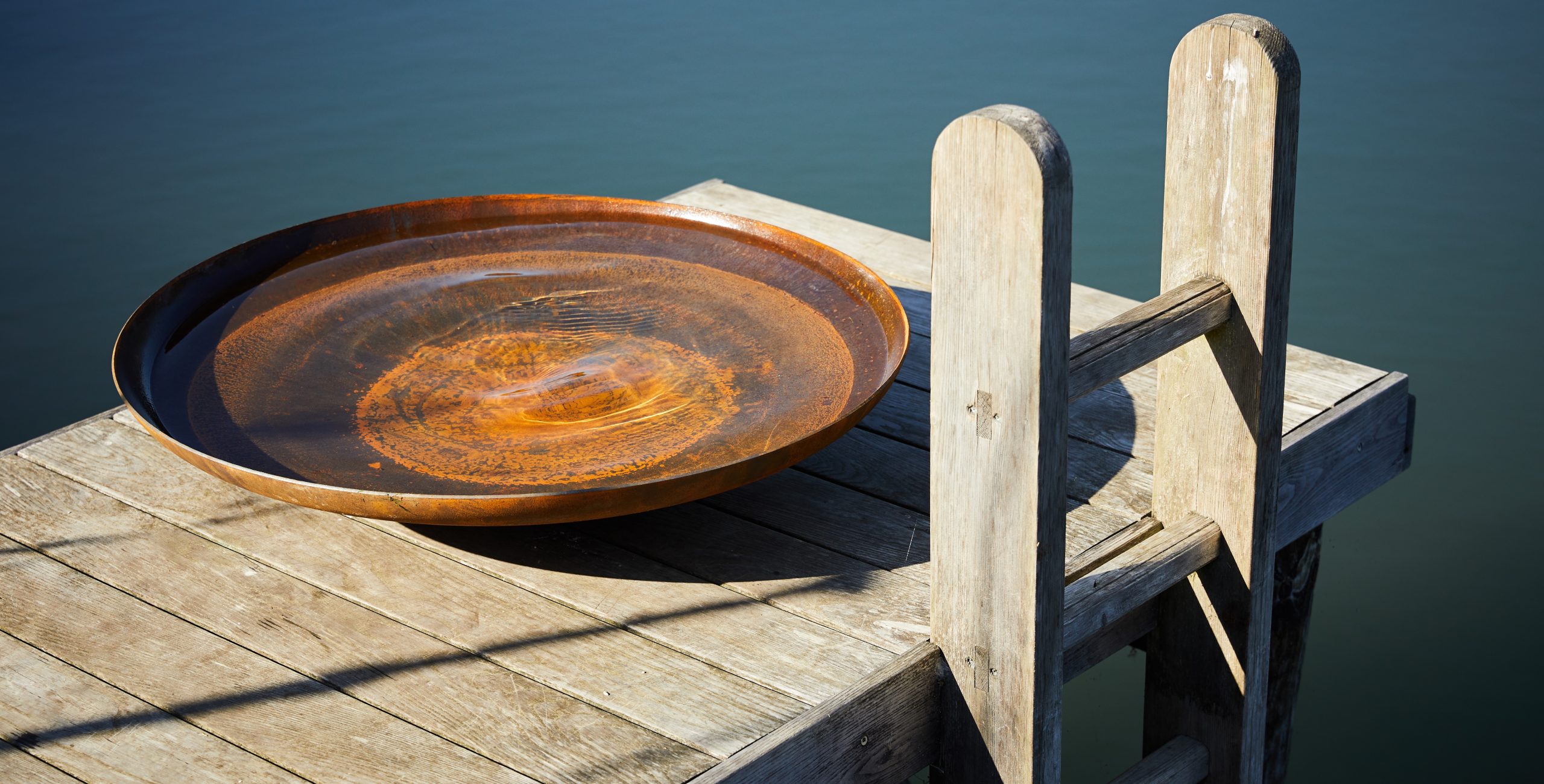 Little to No Maintenance
Preserving outdoor pieces often requires tedious upkeep – from staining and sealing to repainting when finishes fade. But our corten steel collection offers a maintenance-free alternative to you and your outdoor space. 
Once corten's natural patina develops, no additional finishing or treatment is needed – simply wash occasionally, as desired, while the patina protects against further rusting. This avoids the need for paint, stains, or sealants over time.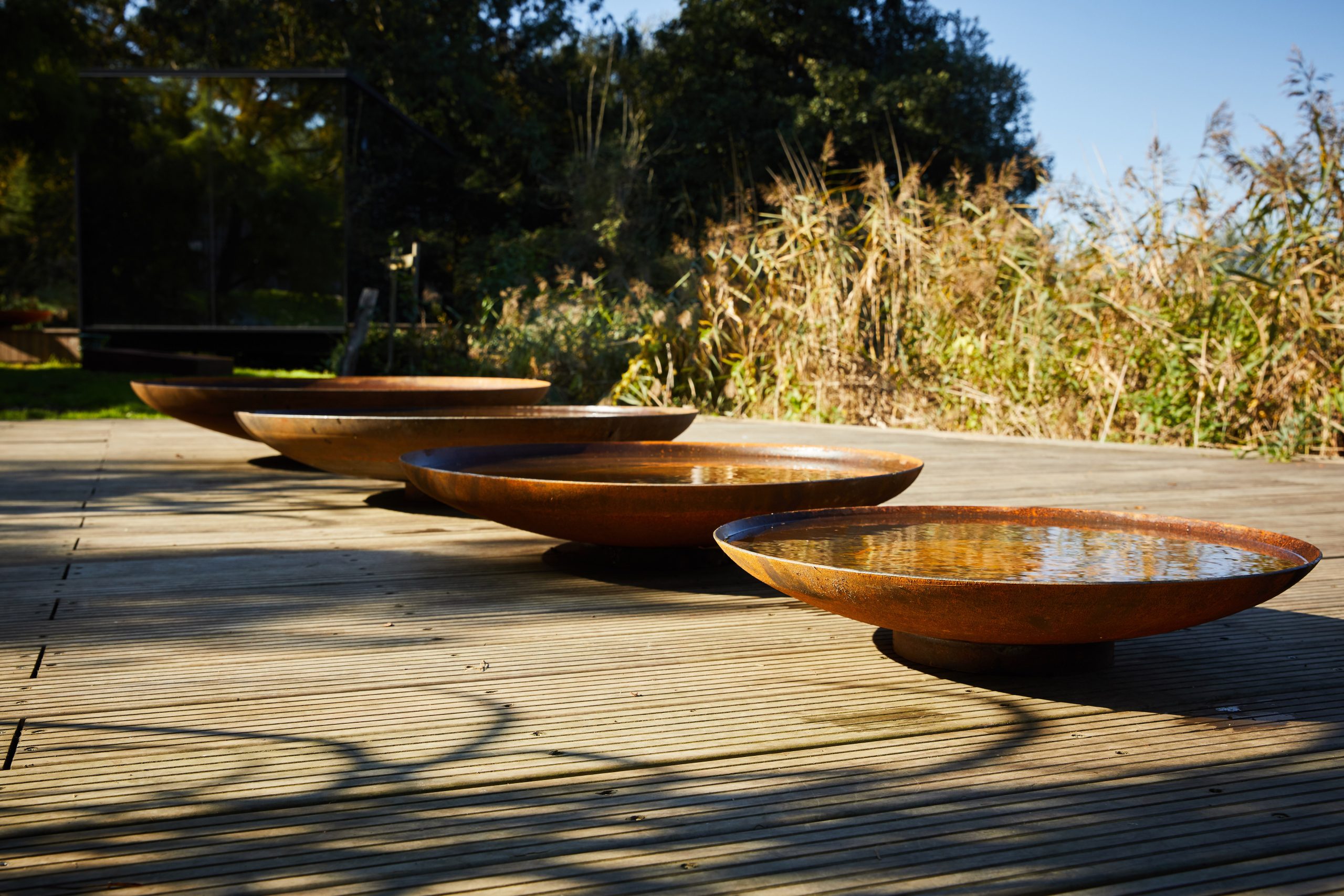 Aesthetic Appeal
Our exclusive corten steel pieces add artisanal distinction to your garden, though their impeccable design and unique weathered finish.
Our corten steel range showcases metallic hues ranging from the warmest auburns to the richest burnt oranges. The organic patina contrasts beautifully against floral displays or lush greenery. And this depth of aesthetic character simply cannot be matched by other materials. 
Let distinctive corten steel enhance your garden's overall visual flair.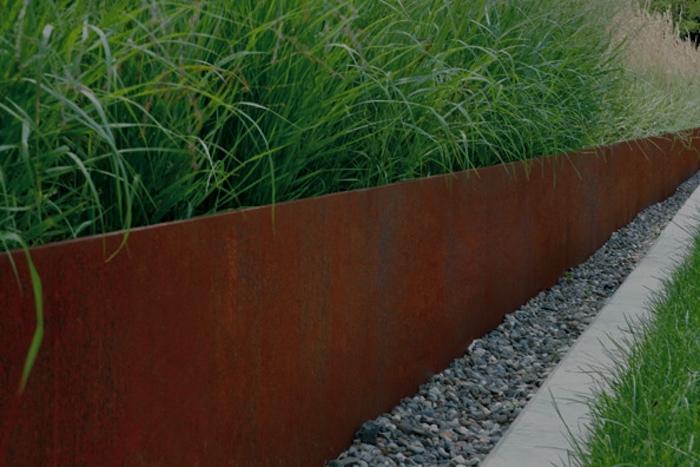 True Sustainability
Seeking garden additions aligned with eco-values can be challenging when main choices are unsustainably harvested or treated with harmful finishes. Our exclusive corten steel pieces offer a sustainable alternative, crafted from up to 60% recycled steel, our products give new life to salvaged metals. 
We also actively reduce manufacturing waste through nesting and scrap reuse, and, once installed, our corten steel's extreme durability and low maintenance needs enhance its lifetime value – making it perfect for homeowners that value ethical and sustainable decor.
Let distinctive corten steel enhance your garden's overall visual flair.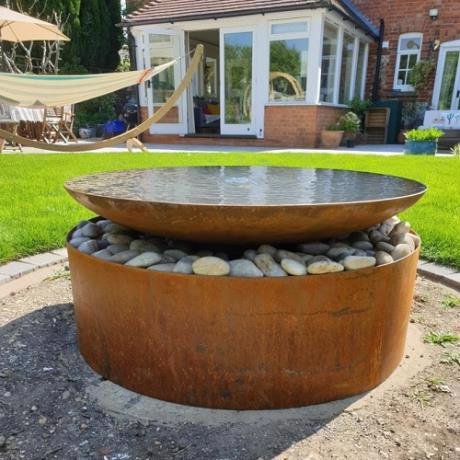 Absolute Versatility
Our corten steel collection opens a world of possibilities to enhance your landscape vision. We offer a versatile range, including planters, raised beds, privacy screens, water features, accent walls, fire pits, and more. 
Available sizes span from small accent pieces to large installations, meaning you are sure to find a piece that complements your landscape – be it a cottage garden or urban dwelling. Let your imagination wander with corten steel's immense visual potential.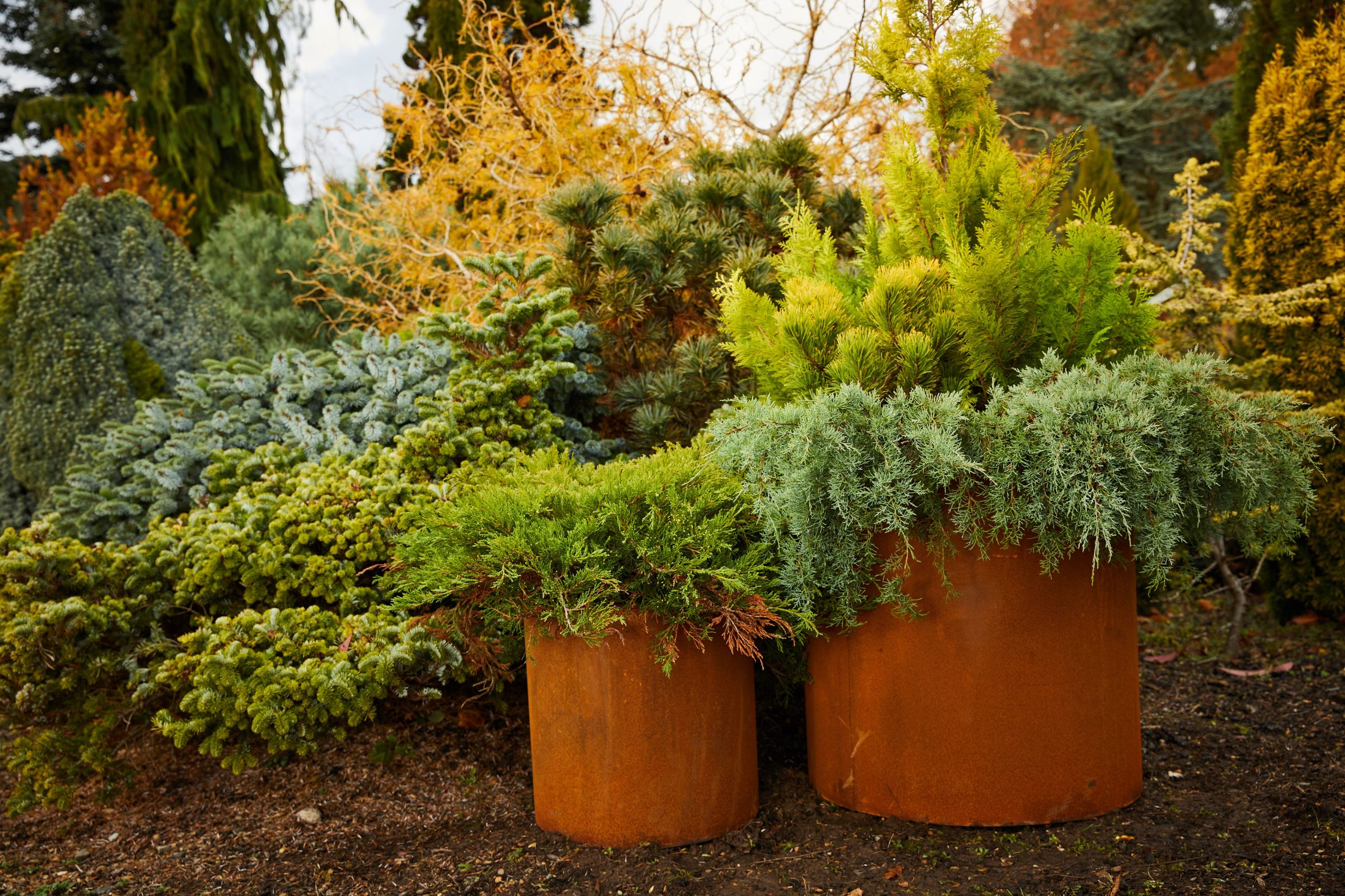 Quality and Lasting Value
Finding long-term garden value can be difficult when choices are disposable or lack character. Our exclusive corten steel pieces deliver durability, uniqueness, and quality craftsmanship. 
Its natural patina allows corten steel to age gracefully for decades, without any need for replacement – delivering years of enjoyment without frequent costs. Few other materials can match corten's strength, artistry, and ever-changing character.
"Very good service I brought a water feature a steel bowl that goes rusty. Sounds strange but lovley delivery was quick and good."
– Anne Gasnola

Round Wood of Mayfield – Your Trusted Corten Provider
At Round Wood of Mayfield, we set the standard for exceptional quality Corten steel. With over 60 years of experience sourcing premium garden elements, we have earned our place as corten specialists.
Our focus has always been on providing exquisite garden products suited to any outdoor space. And our impeccable customer service means we ensure all products meet the highest standards in materials and workmanship.
When you choose Round Wood of Mayfield as your partner, you can buy with confidence knowing that your new garden features will provide a lifetime of enjoyment.

Choose Corten Steel for
Your Garden Today
Browse our exclusive collection online or contact us today for a personalised consultation. Our team are here and ready to listen to your needs, provide recommendations tailored to your space, and help you to bring custom concepts to life with quality craftsmanship.
Corten Steel is a weathering steel that forms a protective rust layer over time. Its unique rust-like appearance and weather-resistant properties make it a popular choice for garden sculptures, planters, and edging, adding a rustic charm to outdoor spaces.
Corten Steel requires minimal maintenance. Simply keep the surface clean from debris and ensure proper drainage to prevent water accumulation. Its natural weathering process enhances the aesthetics of garden features without the need for painting or special treatments.
Answer: Yes, Corten Steel is safe for animals. It can be used for bird baths, feeders, or other garden features designed to interact with wildlife without concern for their well-being. The rusting process is natural and doesn't release harmful substances.
Corten Steel may cause staining on surrounding surfaces, especially when exposed to water. Careful consideration of placement and design can minimize this effect, and the natural rust colour often blends well with garden elements.
Corten Steel adds a unique and natural touch to gardens. Its weathering process, texture, and colour complement various garden elements, enhancing the overall aesthetics. Whether used for planters, sculptures, or edging, Corten Steel features can transform a garden into a visually appealing and harmonious space.