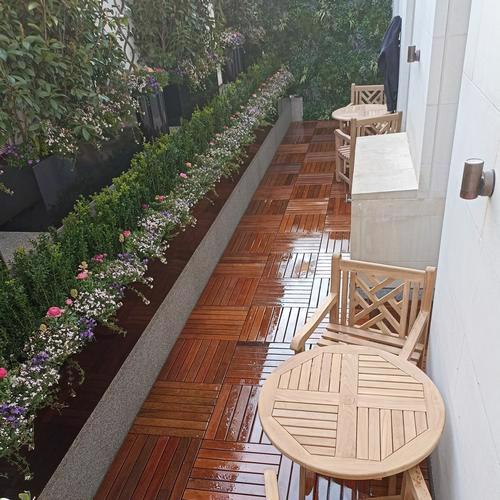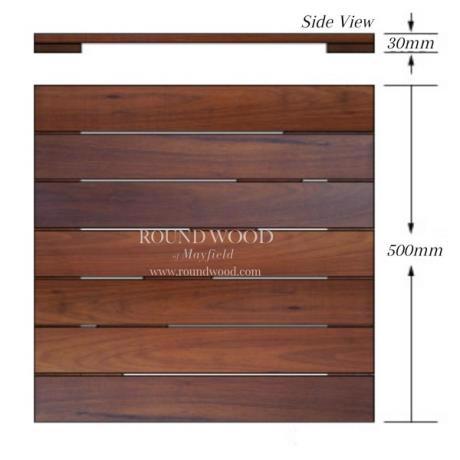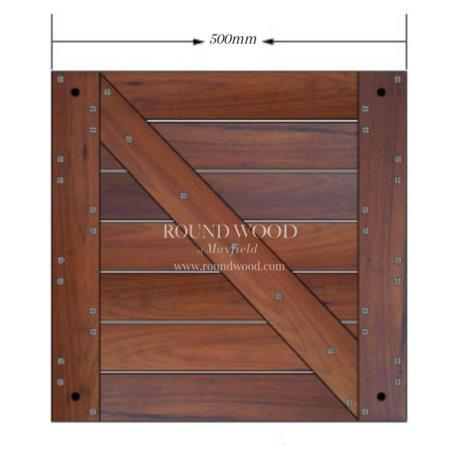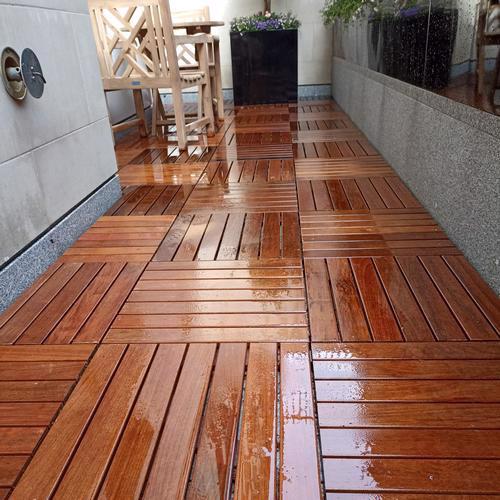 Ipe deck tile 500 x 30 x 500mm
Connectors sold separately
Low maintenance and durable IPE hardwood decking tiles
Easy and quick installation
Perfect for renovating concrete decks, patios or balconies
Built using all stainless steel screws
Each tile has 4 pre-drilled corners for easy installation using connectors
Tile weight – approx. 5.5kg
Each tile measures 500 x 30 x 500mm and contains 7 boards, each measuring 65 x 15 x 500mm. The tiles have 4 pre-drilled corners for easy installation using connectors. Tile weight is approximately 5.1kg. Very easy to install using corner connectors.
Each tile measures 500mm x500mm x30mm and contains 7 boards, each measuring 65mm x 15mm x 500mm. Each tile has 4 pre-drilled corners for easy installation using connectors.
Ipe is an extremely dense and durable hardwood. It is naturally resistant to insect and fungal attack.
Ipe is renowned for its outstanding colouration. Whilst boards tend to range from light brown through to dark red, sparks of orange and green can also feature. When the different shades are fitted together, an impressive, contemporary, rich, dark and unique deck is achieved. This colour variation is widely sought after.
Ipe like many other species can be prone to worm hole, Short Grain and Grain Swirl which are natural defects and acceptable within grading. If, however, you are you are looking for a more uniform finish, we recommend one of our other timbers.
Whilst Ipe is the most stable of hardwoods, we recommend that you leave a 3-5mm spacing in between each board. Being a natural product there will be some expansion and shrinkage depending on climate.
Please note that as hardwood specialists, we do not stock softwood for sub-frames. We recommend that your source this from a standard timber merchants.
We recommend sealing the cut ends of your boards with an end grain sealer.
GET A QUOTE
Looking for advice or would like a quote?
Fill out our quick form below and we'll get back to you by the end of the next working day.