Winning Stand at BBC Gardeners World Live
Our decking, cladding, oak framed structures and planters featured on a winning stand at BBC Gardeners World Live.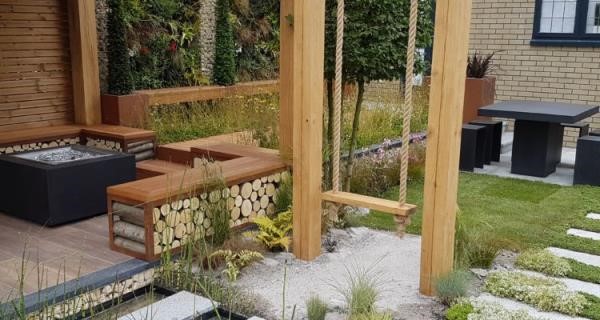 We recently helped one of our regular customers triumph in the "People's Choice Award" at BBC Gardeners World Live.
After providing several striking elements for Conquest Creative's garden, it was voted by visitors as most popular in show.
Entitled "Across The Board," the stand was presented as an example of an ideal outside space for a professional, retired couple with grandchildren. It also claimed a silver gilt award for show judges.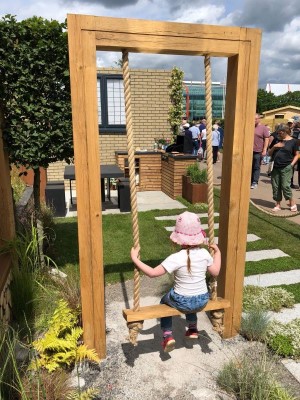 Conquest had the helping hands of our team in giving the stand a contemporary edge with eco-friendly thermo-treated cladding and decking, as well as supplying a striking oak pergola and children's swing from our oak framed building workshop.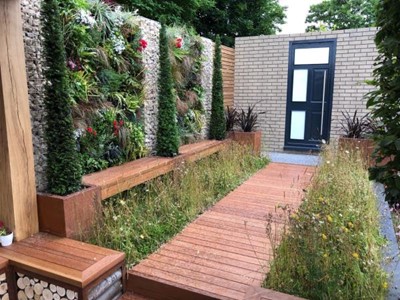 The garden, which won for its creativity whilst being "easy to maintain", making it ideal for its intended client, also impressed with our corten steel planters, a contemporary choice thanks to its deep orange, weathered appearance.
The multi-functional, low maintenance garden space "ideally suited to a professional couple who've embarked upon early retirement with grown-up children that have fledged the family nest" also included an outdoor kitchen, boardwalk and lawn.
Other highlights included "elements for all seasons" with granite stepping-stones across the grassed lawn with a reflection pool and a corner sunken seated fire pit.
Ross Conquest of Conquest Creative Spaces said of Round Wood and its help in winning the BBC "People's Choice" garden last month: "Round Wood is a landscaper's hidden gem for creating something a little special in the garden.
"Their ranges of tropical hardwoods, oak and Thermory timbers has allowed us to be more creative with our designs and suit different client budgets and expectations. The Thermory range [which was used in the BBC Gardeners World Live garden] with its special clip system is great.
"Round Wood are a combination of importers and skilled joiners, with a keen eye for garden life-styling. A great combination for top service and expertise, can't fault their service over the years and they always deliver with impeccable reaction times, cheers guys!"