CORTEN STEEL EDGING – YOUR GO-TO MATERIAL
CORTEN STEEL EDGING THAT'S A DURABLE LOW-MAINTENANCE SOLUTION
Choosing the right material for garden edging brings many considerations. You want an edging that defines boundaries clearly and withstands weather exposure while retaining a pristine look for years. Sustainability is another priority for eco-conscious individuals who want to reduce their environmental impact.
With so many options out there, selecting the ideal edging material can be a challenging decision. The perfect choice combines durability, weather resistance, visual appeal, and sustainability.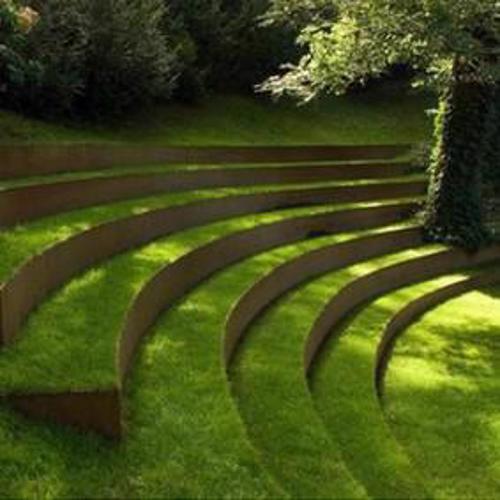 What Makes Corten Steel Your Best Choice

With its unrivalled blend of strength, sustainability and style, corten steel has distinct advantages as a garden edging material.
Durability:

Corten steel has exceptional resistance to atmospheric corrosion thanks to its protective rust patina, forming a smart barrier against further decay. This makes it last for decades without cracking, rotting, or bending out of shape.

Weather Resistance:

Corten steel withstands exposure to rain, sun, wind, frost, and snow, without damage or wear. The material will never warp, splinter, or degrade like other edging materials.

Aesthetic Appeal:

The rust patina on corten steel creates a unique aesthetic that brings artistic style to garden beds and borders. The textured rust-orange hue contrasts beautifully with greenery and stone, and this eye-catching appearance remains intact for years.

Sustainability:

As a recyclable material, corten steel reduces waste compared to less eco-friendly edging options. Plus, the production process uses fewer resources than mining virgin materials, and our edging range is made of 60% recycled material.

Low-Maintenance:

Once installed, corten steel requires minimal maintenance thanks to its protective rust layer. This means there is no need for time-consuming repairs, replacements, or repainting during its lifespan.
Corten Steel Vs. Other Edging Materials
Plastic Edging
Plastic is affordable and easy to install, but it lacks durability and easily becomes brittle and cracked when exposed to harsh weather. Plastic fades over time too, and lacks the natural aesthetic that corten can provide, so rarely compliments gardens aiming for an organic look.
Aluminium Edging
Aluminium is corrosion resistant and handles weather well, however, it lacks the strength of steel and is prone to dents and marks, especially from garden tools or lawnmowers bumping the edging. The plain silver colour also stands out from the greenery in your garden, making for a jarring visual effect.
Concrete Edging
Concrete edging offers long-lasting durability but lacks aesthetic appeal. The cold, hard appearance contrasts poorly with softer landscaping, and pre-cast concrete edging lacks structural strength compared to poured concrete borders.
Steel Edging
Steel offers unmatched durability thanks to its high strength, but regular carbon steel edging lacks weather resistance and rusts without protection. The industrial look also rarely suits all garden designs, and it requires painting in order to maintain its appearance.
Corten Steel Edging
Corten has the strength of steel without the high maintenance. It resists weathering 4–8 times better than regular carbon steel while forming a rust patina that eliminates the need for painting or treatments, and the rustic aesthetic softens the industrial look to complement gardens beautifully.
For the perfect blend of visual appeal, extreme durability, and fuss-free maintenance, corten steel edging outperforms traditional materials by a long shot.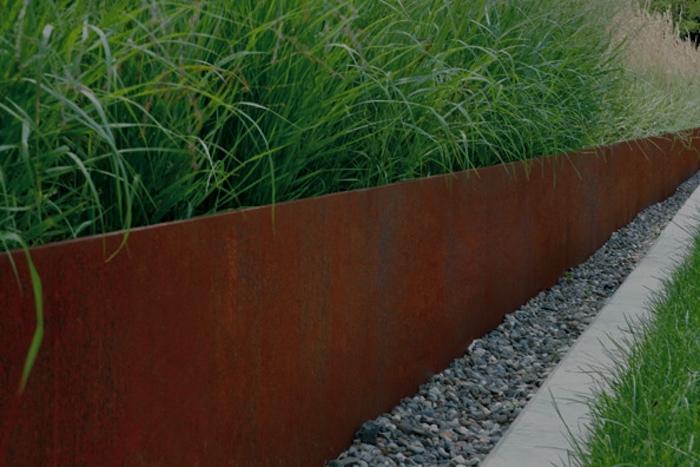 Our Corten Steel Edging Ranges
At Round Wood, we offer corten steel edging in a variety of styles and sizes, to meet any garden requirement.
Select from Straight Edging, Folded Edging, or U-Profile Edging, depending on your needs. Straight props lend themselves to curving beds, Folded is ideal for crisp straight lines, while U-Profile contains gravel or mulch.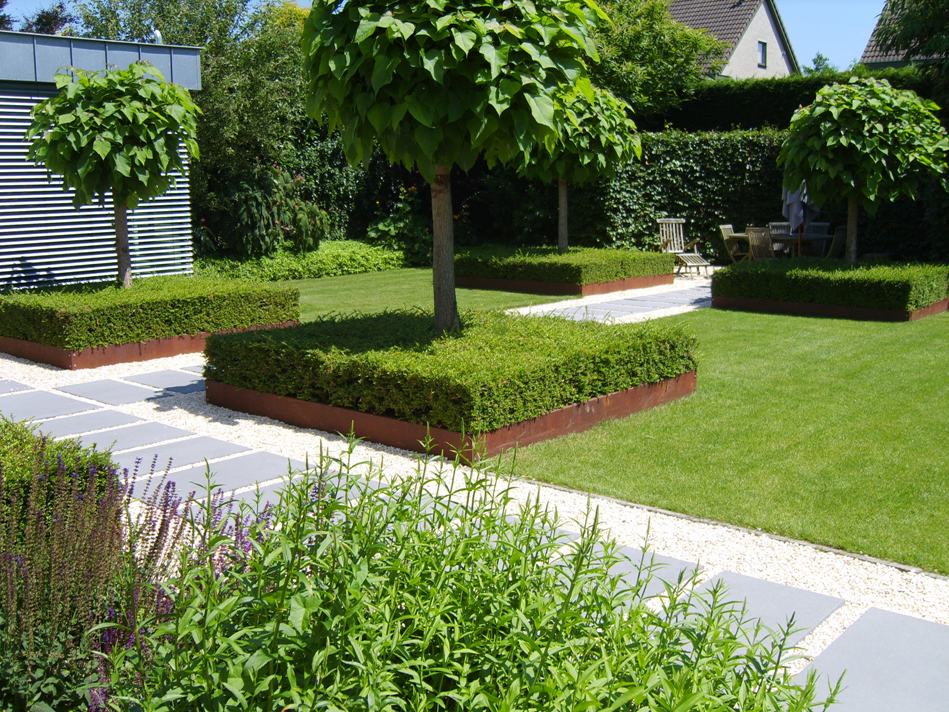 Sizes and Thickness
Our corten steel edging comes in 150 mm or 290 mm heights. Choose shorter edging for flower borders or taller for driveways and lawns. You can also pick a 2 mm thickness for lightweight flexibility or a 3 mm thickness for high-traffic areas. 
We supply convenient 2500 mm lengths to reduce joins, as well as corner pieces that provide neat angled edges. Our accessories like pegs and screws keep the edging firmly anchored and joined. 
"Very good service I brought a water feature a steel bowl that goes rusty. Sounds strange but lovley delivery was quick and good."

Experience the Corten Steel Difference With Our Edging
With everything from profile shape to size and thickness customizable, you can find the perfect Corten edging design to fulfil your vision. Contact our experts for guidance in selecting the ideal Corten edging solutions for your garden.
For durable, sustainable, and decorative garden edging, corten steel is in a class of its own. Transform your garden beds, borders, paths, and driveways with our quality corten steel edging, in a wide range of profile shapes and sizes to suit gardens of any size. 
Contact our experts for guidance in selecting the ideal edging solutions for your outdoor space.
Corten Steel is a weathering steel that forms a protective rust layer over time. Its unique rust-like appearance and weather-resistant properties make it a popular choice for garden sculptures, planters, and edging, adding a rustic charm to outdoor spaces.
Corten Steel requires minimal maintenance. Simply keep the surface clean from debris and ensure proper drainage to prevent water accumulation. Its natural weathering process enhances the aesthetics of garden features without the need for painting or special treatments.
We are unable to cut edging in-house. You could cut the edging onsite yourself or with the help of a professional. Please bear in mind the joining tabs are positioned at each end and may need to be reattached, depending on how you are fixing the ends.
No, it might not. We receive regular deliveries of corten steel edging and dispatch our products at the stage of weathering it has reached while in stock. Your edging pieces may therefore be delivered with different levels of weathering.
Yes, the straight edged and folded edging can be used to create curves, U-Profile edging cannot. Corten Steel is a very springy steel, and you can use the straight-edged edging to create smaller radius curves, for example, around a tree by using several edging pieces. The folded edging can be curved to follow a smooth large curve, like a driveway.