INTRODUCING OUR CORTEN STEEL EDGING RANGE
Corten steel, also commonly referred to as 'weathering steel', is a unique building material valued for its distinctive rustic appearance and durability.
When exposed to the elements, corten undergoes a weathering process and develops a protective layer of rust that resists corrosion and eliminates the need for painting or additional maintenance. This layer also gives corten steel its warm and rich texture, that is both aesthetically pleasing and functional.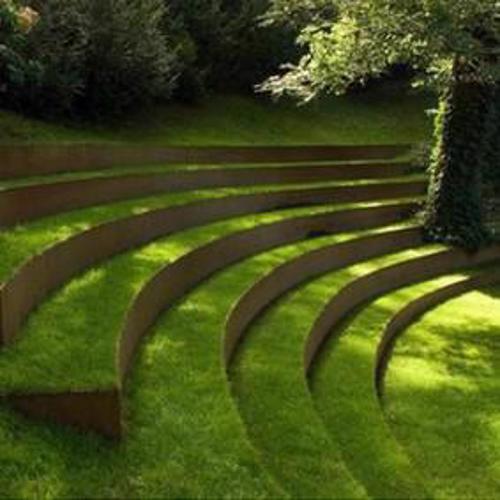 About Our Corten Steel
Unlike other steels, Corten steel has an exceptional level of atmospheric corrosion resistance thanks to its chemical composition.
Some key benefits include:
High strength
Low-Maintenance
Longevity
Recyclability
This makes Corten steel a trusty choice for a range of outdoor applications, especially garden edging, where durability and aesthetic appeal are some of the most important factors.
How Our Corten Steel Edges Can Help
Corten steel edging provides solutions when designing and maintaining your garden borders. When you choose corten edging from our catalogue, you can expect features that deliver: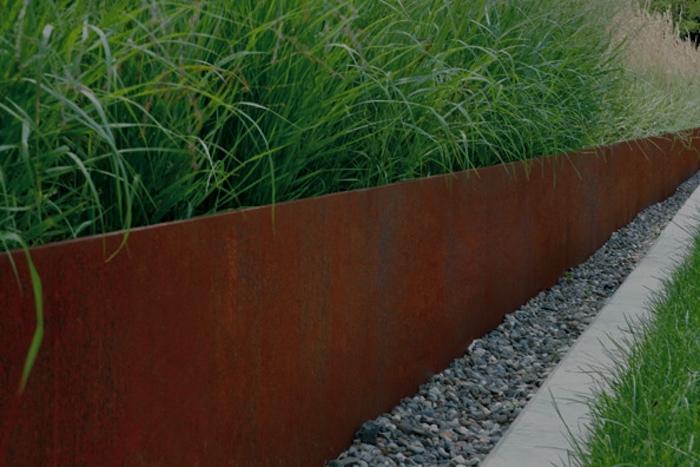 Trustworthy Durability
Garden edging is constantly exposed to harsh weather, from extreme heat to heavy rainfall and frost. These conditions can deteriorate cheaper edgings over time, but corten steel is specifically designed to withstand exposure to the elements.
This is thanks to its rust patina, a protective coating that resists this type of corrosion, ensuring your edging retains its strength and structure for decades without rotting, cracking or becoming brittle.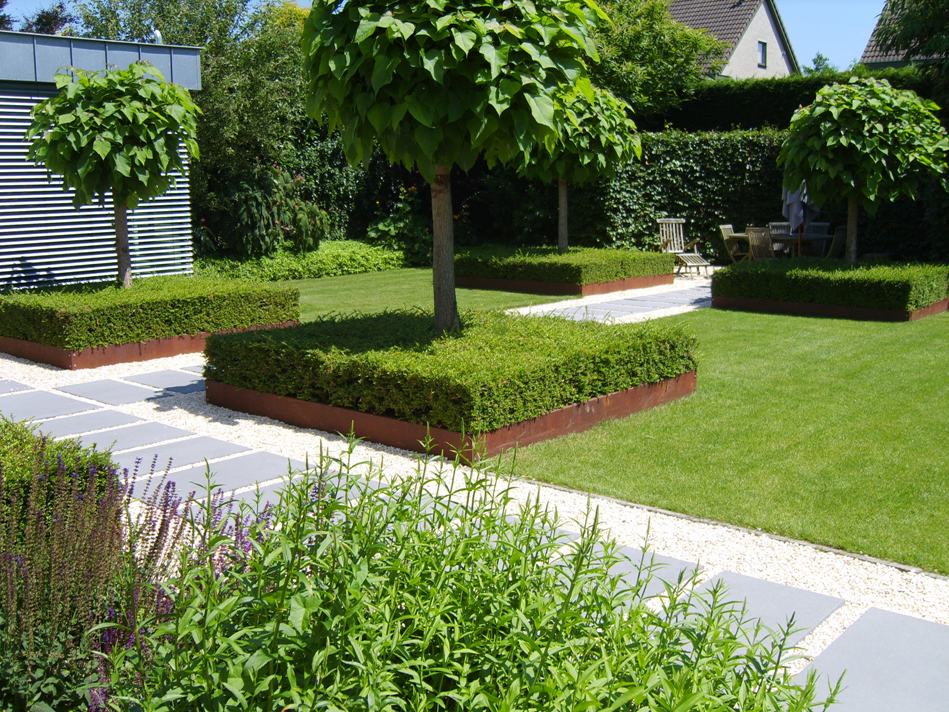 Easy Maintenance
Traditional edgings often require laborious upkeep like cleaning, sealing, painting and replacing damaged sections. The weathered finish of corten steel, however, eliminates this hassle.
Once installed, corten edging is virtually maintenance-free thanks to its rust layer preventing further degradation. You can enjoy neat, clean edges year after year without constant repairs or repainting when you choose Round Wood of Mayfield.

Aesthetic Appeal
The unique rusted patina of weathered Corten steel adds a beautiful texture that enhances the visual appeal of your garden. Its distinctive industrial aesthetic stands out from typical edgings to become a focal feature, complementing both modern and traditional garden styles.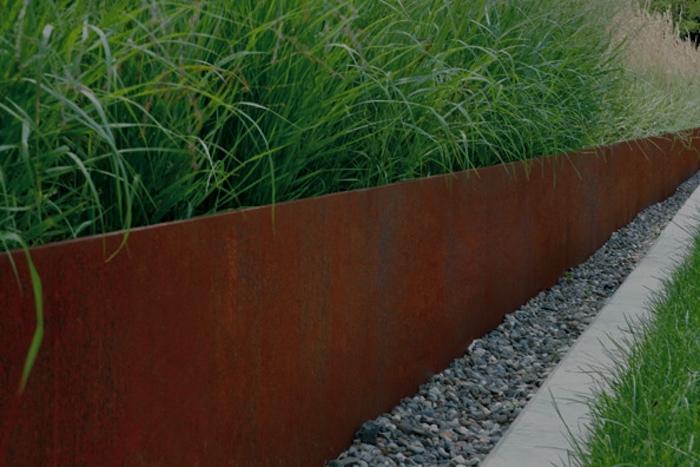 True Eco-Consciousness
As a recyclable material, corten steel reduces waste compared to other edgings. Our range specifically is made from up to 60% recycled steel, making it a brilliant choice for eco-conscious homeowners looking to revamp their gardens sustainably.
The long service life of our corten steel edgings also decreases the frequency of replacement. Coupled with its recyclability, our corten edging is the perfect example of a circular lifecycle.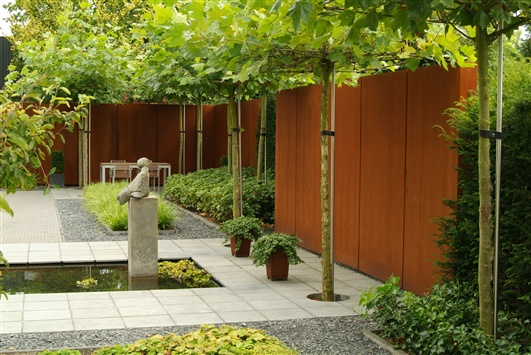 Full Versatility
With its bendable and rigid profiles, corten steel edging adapts to any garden layout. You can curve smooth lines, create sharp corners or finish a raised bed with a U-profile. This versatility means you can redesign beds and borders in future without needing new edging.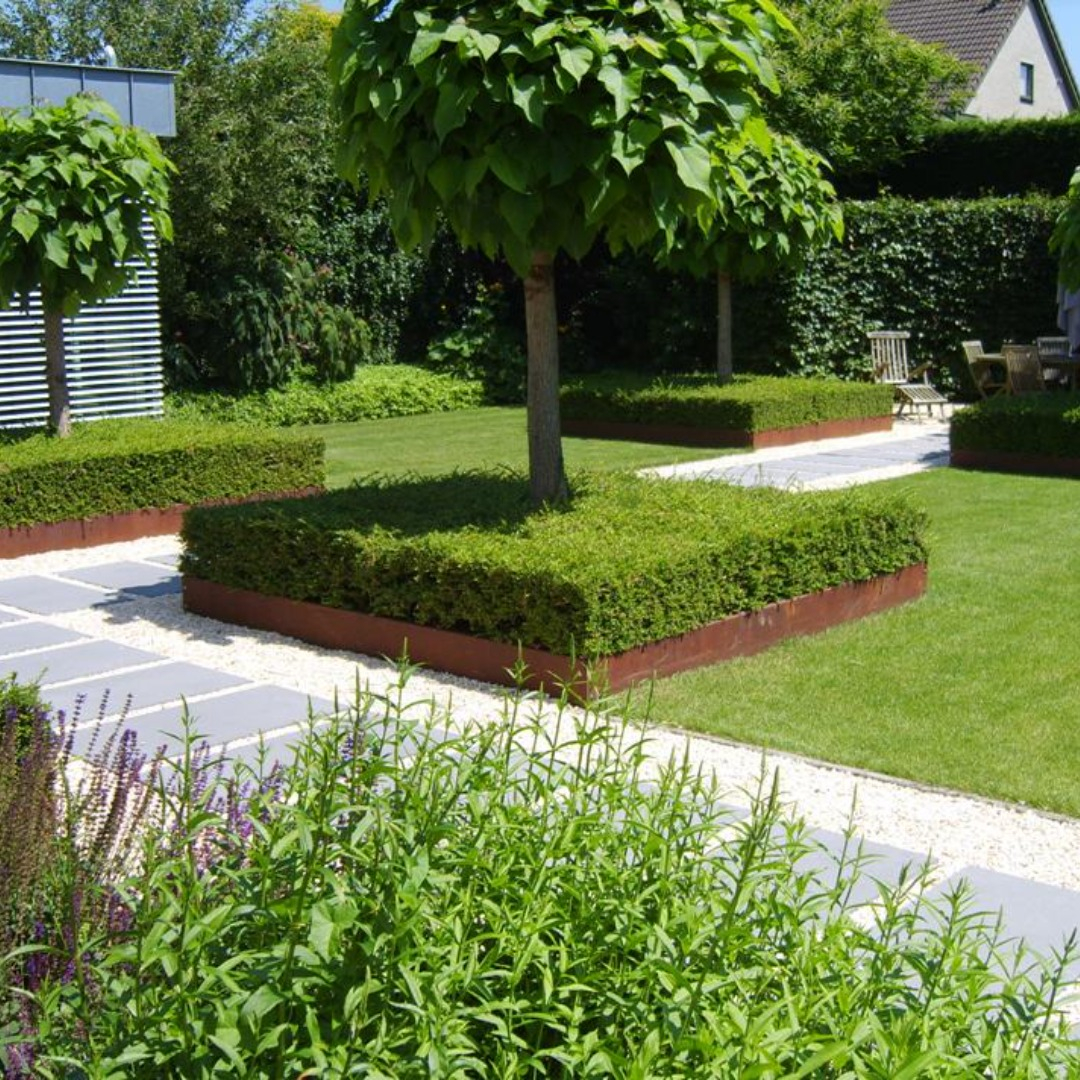 Quality & Value
The higher initial investment in corten steel edging returns savings over time thanks to its exceptional longevity and lack of maintenance costs. It is a premium quality material that retains its integrity and enhances your garden's visual impact for decades.
"Very good service I brought a water feature a steel bowl that goes rusty. Sounds strange but lovley delivery was quick and good."

Explore the Corten Steel Edging Range
At Round Wood of Mayfield, we offer a comprehensive range of corten steel edging options to suit any garden layout and design. Our Corten edging comes in a choice of three profiles:
Straight Edging
A simple flat profile that can easily bend and curve, making it ideal for winding garden beds and curved borders.
Folded Edging
A rigid, right-angled profile that is perfect for straight lines and crisp edges along paths, lawns, and driveways.
U-Profile Edging
Provides a small lip and overhang that helps contain gravel or mulch.
Both our Straight and Folded Edging profiles are available in 150 mm and 290 mm heights. This allows you to choose shorter edging for flower beds or taller edging for drives and lawns. The U-Profile comes in a 150 mm height only, but it is just as versatile in its range of uses.
The edging sections are supplied in convenient 2500 mm lengths and can be secured using corten steel pegs which slot into small holes along the edging.
For thickness, you can select from 2 mm or 3 mm corten steel depending on your design needs:
2mm: Provides a lightweight and cost-effective option.
3mm: Offers extra strength and longevity for high-traffic areas.
With such a wide range available, you are sure to find the perfect Corten steel edging profile, height, and thickness for your unique garden vision at Round Wood of Mayfield.
Invest in Our Corten Steel Edging Today
With unrivalled weather resistance, reliable strength, and minimum maintenance requirements, corten steel provides long-lasting edging that withstands the elements while adding unique character to your outdoor space.
Choose from multiple sizes, profiles, and thicknesses to find the perfect edging for your needs. Alternatively, get in touch with our team today to receive personalised advice on what will suit your garden best.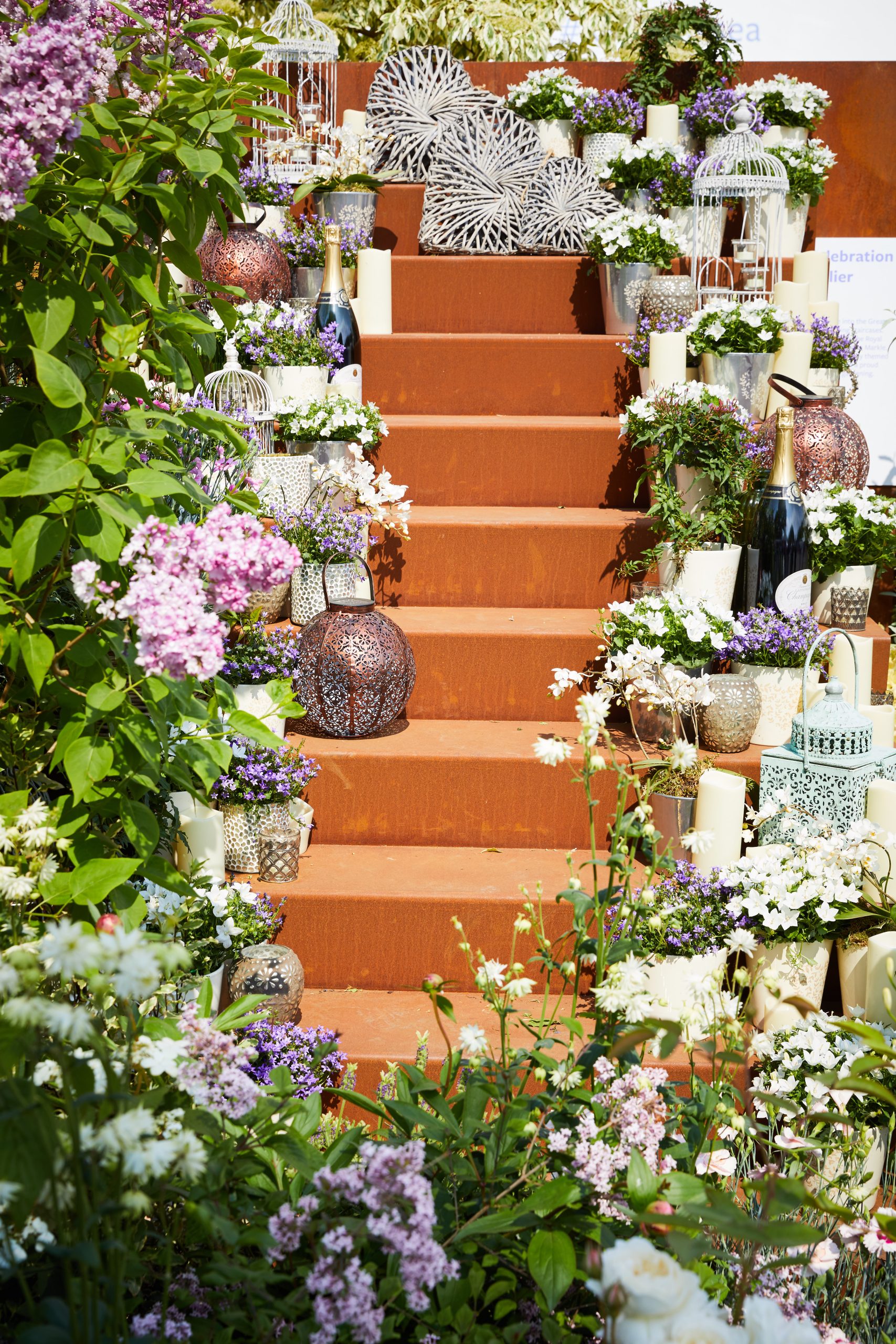 Choosing Round Wood of Mayfield
With over 30 years of experience, Round Wood of Mayfield is a leading UK provider of quality Corten steel edging and garden accessories. Plus, our in-house team can provide expert guidance on selecting the optimal edging for your needs and garden vision.
As a trusted family-owned business, we take great pride in providing exceptional customer service and going the extra mile to ensure you get the perfect corten edging to enhance your outdoor space.
Browse Our Stunning Range of Corten Steel Features
You can explore our full range of exclusive corten steel products today – from modern angular planters to delicate water features, bold fire pits to winding garden borders. We have sizes suitable for small urban patios up to sprawling outdoor spaces.
Contact us today to discuss your project and get a personalised quote. Tell us about your garden aesthetic goals and exact dimensions, and we will ensure you find the perfect corten steel pieces to create your dream garden living space.
Corten Steel is a weathering steel that forms a protective rust layer over time. Its unique rust-like appearance and weather-resistant properties make it a popular choice for garden sculptures, planters, and edging, adding a rustic charm to outdoor spaces.
Corten Steel requires minimal maintenance. Simply keep the surface clean from debris and ensure proper drainage to prevent water accumulation. Its natural weathering process enhances the aesthetics of garden features without the need for painting or special treatments.
We are unable to cut edging in-house. You could cut the edging onsite yourself or with the help of a professional. Please bear in mind the joining tabs are positioned at each end and may need to be reattached, depending on how you are fixing the ends.
No, it might not. We receive regular deliveries of corten steel edging and dispatch our products at the stage of weathering it has reached while in stock. Your edging pieces may therefore be delivered with different levels of weathering.
Yes, the straight edged and folded edging can be used to create curves, U-Profile edging cannot. Corten Steel is a very springy steel, and you can use the straight-edged edging to create smaller radius curves, for example, around a tree by using several edging pieces. The folded edging can be curved to follow a smooth large curve, like a driveway.