CORTEN STEEL EDGING THAT FITS YOUR GARDEN
MAKE THE MOST OF SMALLER GARDEN SPACES WITH CORTEN STEEL EDGING
Limited outdoor space poses a tricky challenge when it comes to garden design. Narrow borders, tiny lawns, and cramped corners can restrict layout options and make it difficult to mark boundaries clearly. Without proper definition, small gardens can feel cluttered and disjointed. It's also challenging to add visual interest and variety with fewer planting beds or features.
Making the most of compact garden dimensions requires clever solutions. The right features and boundaries can maximise perceived space and prevent a small garden from feeling claustrophobic. Defined edges and thoughtful landscaping are key to opening up small outdoor areas.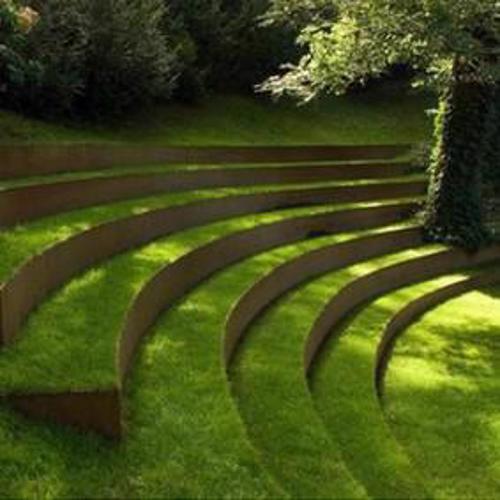 How Our Corten Steel Edging Can Help
With its durable and decorative profile, corten steel edging can help define boundaries, add interest, and frame landscaping in modestly sized gardens.
The clean, modern lines of our corten edging create crisp boundaries along lawns, paths, and planting beds. This keeps everything neatly contained and delineates areas clearly – preventing a crowded feel and helping lawns to appear well-planned and intentional.
Beyond function, corten steel edging also brings artistic style. The rusted metal finish injects texture, colour, and character into gardens of any size, and its industrial look contrasts beautifully with plants and materials like wood, as well as providing definition and complementing water features and lawns.
Choose the Right Edging for Your Garden

Our Corten steel edging range offers plenty of choice to find the perfect fit for petite garden plots and tight spaces.
Straight Edging: For clearly defining winding borders in small beds or tree pits, our Straight Edging is ideal. It can smoothly bend and curve to outline organic shapes within tight parameters.
Folded Edging: If marking crisp edges along a narrow path, patio, or miniature lawn, our Folded Edging provides a rigid right-angled structure. For extra definition around a compact gravel zone or elevated plant bed, consider the U-Profile Edging with its subtle lip.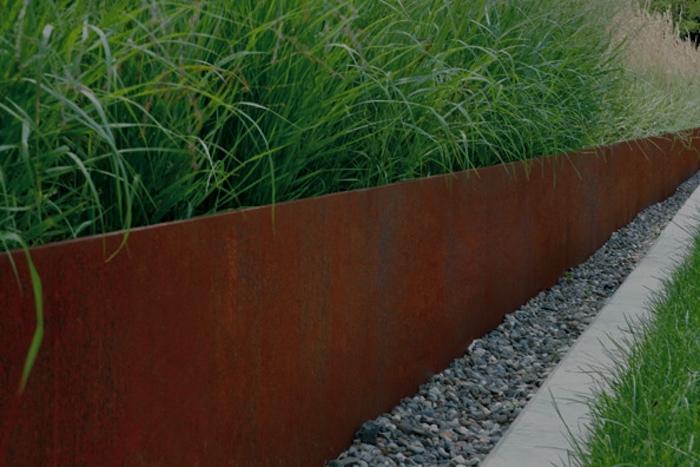 Sizes for Smaller Gardens

In terms of size, our 150 mm edging height is better suited to spatially constrained gardens, compared to the taller 290 mm option. More petite edging ensures borders never overwhelm or encroach too much within paths and growing areas.
For lightweight flexibility, choose the 2 mm thickness. But for high-traffic zones along a main route, entrance, or parking space, opt for the 3 mm thick edging for extra resilience.
We supply our edging in convenient 2500 mm lengths to minimise joins around diminutive plots. Our corner pieces neatly finish angled edges, and pegs keep the edging firmly anchored.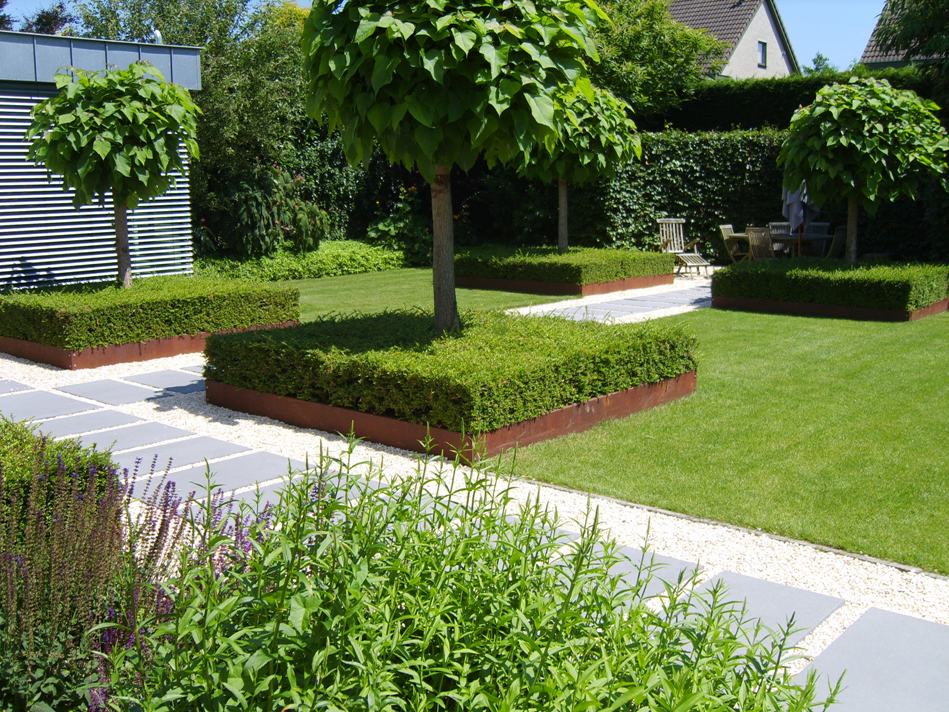 Pre-Weathered Options

Get the weathered patina look immediately with our pre-weathering service, with no need to wait months for the natural rusting process. This also avoids any initial moisture run-off staining surrounding materials.
7 Styling Tips for Your Corten Steel Edging
Our collection of corten steel edging opens up plenty of possibilities for boosting the visual impact of a compact garden. Why not try:
Using Corten edging to create geometric patterns like squares, rectangles, and triangles when delineating beds, lawns, and paths. Repeating shapes makes the space feel orderly and considered.

Curving your corten steel edging adds fluid, organic shapes that contrast beautifully with the hard lines of surrounding walls, fences, and paving.

Pairing the strong straight lines and rugged texture of your corten edging with soft, lush plantings. The interplay between the hardscaping and greenery adds an eye-catching contrast within a restricted space.

Incorporating corten edging as part of multi-level design features like raised beds. A low corten border can section off a higher-tiered planting area from a lower lawn, for added dimension.

Varying materials alongside your corten steel edging to inject more colour and interest into a modest garden. Combined with paving, gravel, decking, and stone, you can stop the rustic finish from dominating.

Using corten steel edging to create standalone features like container-style planters or a mini water feature within a patio area. This makes use of every inch of available space in your garden.

Letting your corten steel edging accentuate and frame focal points like ornamental trees, arches, or sculptures. This pulls the eye towards key elements you want to highlight.

With clever placement and integration into the design, our corten steel edging can transform a cramped outdoor area into a cohesive and stylish space.
"Very good service I brought a water feature a steel bowl that goes rusty. Sounds strange but lovley delivery was quick and good."

Better Define Your Outdoor Spaces With Quality Edging
With multiple sizes and profiles available, our corten steel range brings function and style to modest areas, while durable weather resistance and low upkeep ensure the edging retains its crisp definition for years.
Browse our corten collection online to find your ideal solution, or contact our experts today. We can help select the perfect edging to enhance your outdoor space, no matter its size.
Corten Steel is a weathering steel that forms a protective rust layer over time. Its unique rust-like appearance and weather-resistant properties make it a popular choice for garden sculptures, planters, and edging, adding a rustic charm to outdoor spaces.
Corten Steel requires minimal maintenance. Simply keep the surface clean from debris and ensure proper drainage to prevent water accumulation. Its natural weathering process enhances the aesthetics of garden features without the need for painting or special treatments.
We are unable to cut edging in-house. You could cut the edging onsite yourself or with the help of a professional. Please bear in mind the joining tabs are positioned at each end and may need to be reattached, depending on how you are fixing the ends.
No, it might not. We receive regular deliveries of corten steel edging and dispatch our products at the stage of weathering it has reached while in stock. Your edging pieces may therefore be delivered with different levels of weathering.
Yes, the straight edged and folded edging can be used to create curves, U-Profile edging cannot. Corten Steel is a very springy steel, and you can use the straight-edged edging to create smaller radius curves, for example, around a tree by using several edging pieces. The folded edging can be curved to follow a smooth large curve, like a driveway.