FORGET CONSTANT UPKEEP WITH CORTEN STEEL
Preserving your garden features often requires tedious upkeep, with a constant cycle of sealing, scrubbing, repairing, and replacing materials that often deteriorate far faster than they should. But we have found and developed a viable and impressive solution for homeowners, right in the heart of Mayfield Wood.
Our Stress-Free Corten Steel Garden Features
It is incredibly frustrating when brand-new decorative pieces look dingy and weathered after just a short period of exposure. But this is where the strength of corten steel lies.
Corten steel's unique properties provide a low-maintenance alternative to traditional garden materials. Also known as 'weathering steel', corten develops a richly textured rust patina when exposed to the elements over several months. This stable patina acts as a protective barrier that resists further corrosion and oxidation. And herein lies corten steel's immense advantage.
Once the patina layer forms, corten steel requires no additional finishing like paints, stains, or sealants over time. It retains its handsome finish year after year without any kind of touch-ups. Our full range of corten steel planters, screens, and water features will save you from tedious care.
More Notable Benefits of Corten Steel
Corten steel provides unmatched benefits when it comes to minimising garden maintenance and creating everlasting beauty, including:
Ongoing Protection
Corten's rusty patina is highly resistant to additional corrosion, abrasion, and oxidation. It protects the underlying steel from further weathering damage over decades.
Adaptability to Any Weather
Corten resists freezing and thawing, humidity, salt damage, and UV rays, making it a fantastic choice for any weather, as it can retain its integrity through the harshest conditions.
Protecting Your Time
Our corten steel garden features save you precious time not having to repeatedly clean or repair your decorative pieces. Just an occasional rinse to prevent debris buildup is all that is ever needed.
Saving You Money
The minimal maintenance associated with corten steel means more wallet-friendly gardening for you and your family. No more expenses for paints, sealants, replacement parts, or new pieces that ended up wearing out too quickly.
Standout Aesthetics
Corten steel creates gorgeous focal points that last for decades without replacement. Amortised over their long lifetime, our corten planters, screens, water features, and more, provide excellent value to you and your home.
Give yourself the gift of low-maintenance elegance by selecting our exclusive corten collections.
Explore Our Corten Steel Product Line
Discover our expansive range of weathering steel products, perfect for low-upkeep beauty:
Planters: Make a striking statement with angular corten planter boxes that give your plant life the edge and boundary it needs to visually thrive.
Screens: Divide your garden into intimate spaces with weathered steel privacy screens and walls made from recycled panels.
Water Features: The natural sounds and organic style of a corten steel water feature or bowl provides a gorgeous focal point for gardens, with no debris build-up.
Fire Pits: Our quality steel fire pits and tables are the perfect spot for evenings together. The weather-resistant corten construction holds up to intense heat and cold without needing to be maintained or treated.
Sculptures: Decorate garden beds and walkways with artistic corten sculptures, from dragonflies to abstract pieces that improve your garden as they age.
Edging: For elevated beds and borders, choose durable corten edging that will never warp or degrade like other materials.
From planters to furnishings to water features, our corten collections offer versatility with minimal upkeep. Contact us to discuss low-maintenance pieces tailored and sized for your unique space.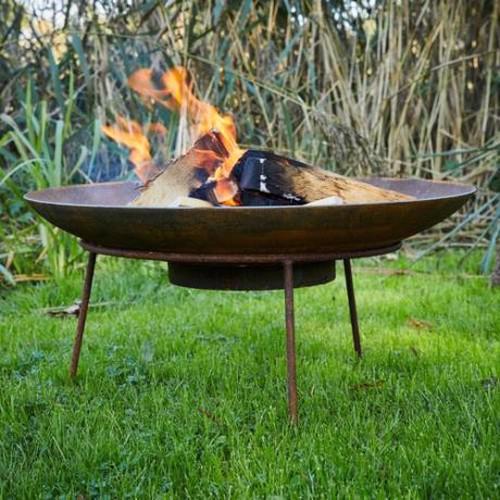 Join Us at Round Wood of Mayfield
Our family-owned heritage means we treat every customer like our neighbour. Our corten specialists can guide you to low-maintenance pieces that seamlessly suit your garden, with our expert team offering ongoing support way beyond the point of sale.
We'll listen carefully, assess your needs, and provide options to match your vision. Our exclusive corten steel collections undergo rigorous quality control testing so you can enjoy decade after decade of graceful ageing.
For a personalised approach, creative solutions, and products crafted to stand the test of time, choose Round Wood of Mayfield.
Prepare Your Garden With Features Made to Last
Browse our expansive range of easy-to-maintain planters, screens, fire pits, fountains, and more today. It is time to finally use your garden the way you have always wanted to, with less time wasted looking after decorative pieces and more time enjoying them.