DISCOVER IDEAL PLANT CHOICES FOR YOUR CORTEN STEEL PLANTERS
FIND THE RIGHT PLANTS FOR YOUR CORTEN STEEL PLANTERS
To create a seamless garden landscape, your planters and greenery must complement each other. But pairing plants with planters to achieve visual harmony can be tricky. You want designs that are built to house the greenery you choose, no matter how big or small.
Planter proportions that worked well for one plant may constrain another, so you need options that fit your plants as well as your outdoor space. Luckily, our vast range of corten steel planters come in a variety of shapes and sizes, with the natural durability to accommodate and accentuate all types of plants.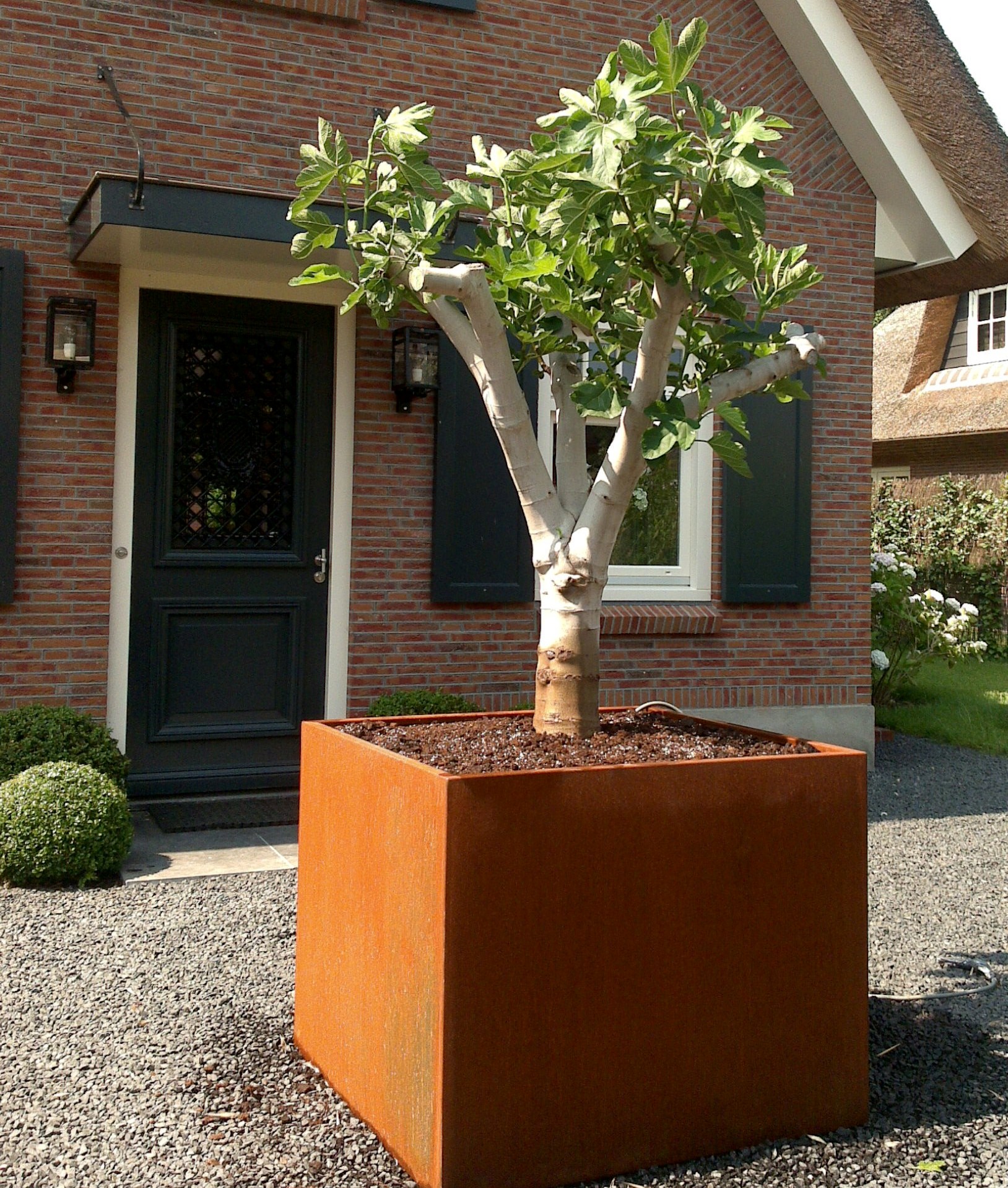 Matching Plants to Planters
Our vast selection of premium corten steel planters offers sizes, shapes, and proportions to beautifully showcase any type of plant.
The weathered rust patina of corten steel pairs exceptionally with all varieties of foliage and flowers, as the organic colours and textures blend seamlessly. Evergreen needles and fern fronds contrast the steel's warmth beautifully, whereas delicate petals in bright hues pop against the rusty backdrop.
Our Tips for Different Plant Types
Choose taller cylindrical or tapered urns for vertically oriented, climbing growth. Slender lines and ample height give wisteria, ivy, roses and other vining plants room to reach upward. Prevent spindly, distorted shapes with proportions supporting natural structure.
Shallow planters like our low cubes and short cylinders keep ground covers and carpeting plants contained. Their spreading foliage cascades over the edges without becoming unruly. Moss, succulents, creeping phlox and pixie primrose stay neatly maintained.
For shrubs, dwarf trees and substantial perennials, select generously sized cubes, spheres and rectangles. The additional width and depth accommodate more expansive root structures. Plants grow to their full forms supported by ample proportions.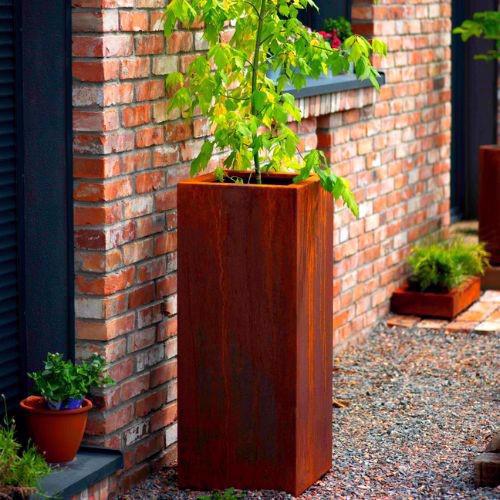 Corten Steel and Plant Health
In addition to its visual appeal, corten steel's durability actually supports healthy plants. The neutral weathering finish will never wash oils or chemicals into the soil that could compromise growth. Corten steel planters allow greenery to thrive safely for decades.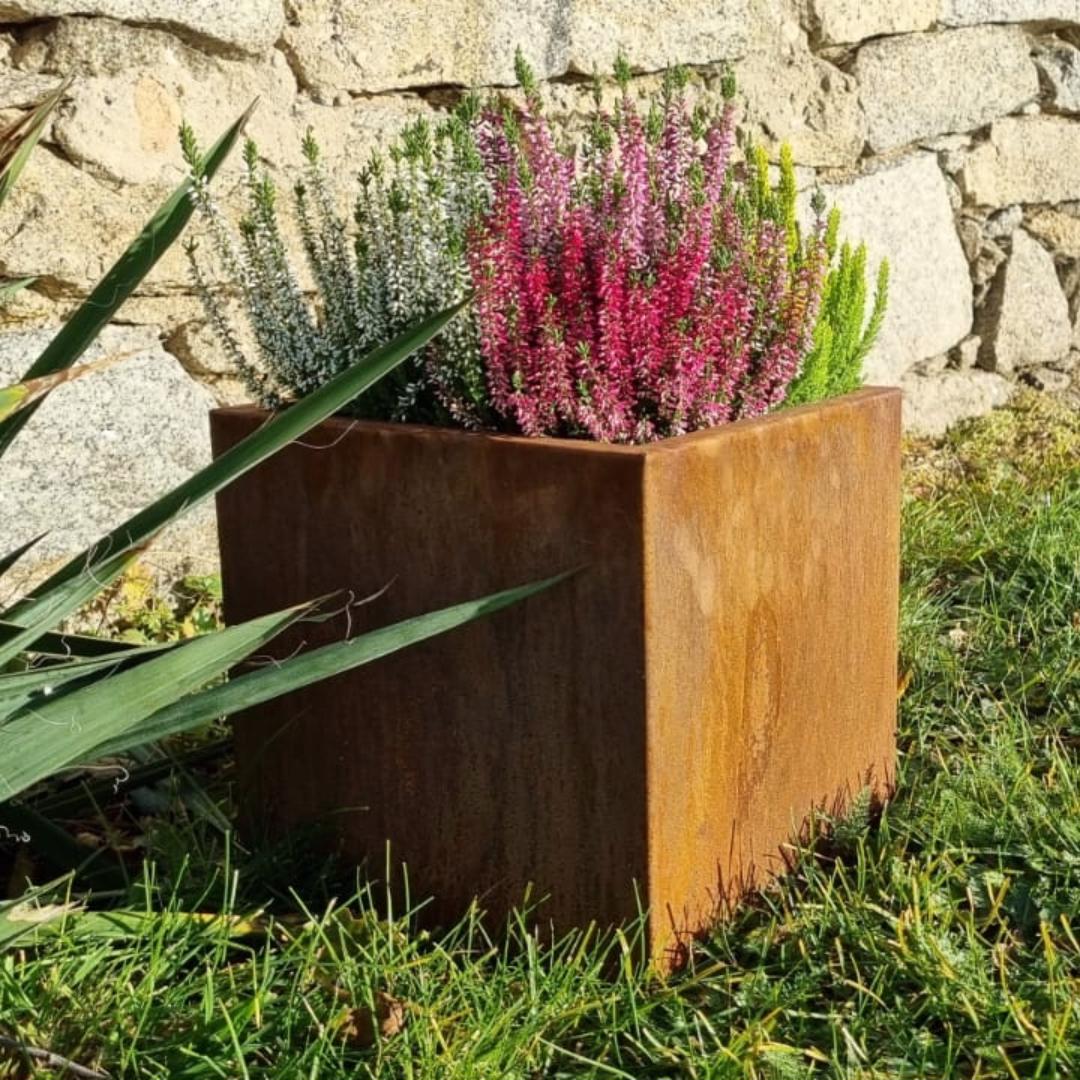 The Optimal Home for All Plants
With a plethora of planter designs to choose from, across a spectrum of sizes, it has never been easier to find the perfect corten steel home for your plants, new and old.
For example, you can contain substantial shrubs and small trees in our generously sized cubic planters. The wide and deep dimensions of our Unus Square Raised Bed provide ample space for roots to spread laterally. Dwarf crape myrtles, hollies, Japanese maples, and other woody plants can reach mature sizes when supported by our corten steel planters.
Showcase flowering vines and tall grasses in cylindrical and tapered planter silhouettes, such as the Cylindro Pot Planters and Conc Tapered Planters, both catering to vertical growth habits and allowing for plants such as clematis, bamboo, and other upright stems to climb or drape gracefully.
Low-lying plants like stonecrop and thyme work best in our shallow planters, like the Cylindro Low Pot Planter or the Rectan Cubic Box Planter. Their low profiles with widths up to 1000 mm give horizontal plants sufficient space to spread out.
Mix and match sizes and forms to cater to your landscape's diverse botanical needs, such as placing broadleaf perennials in a large cube, grasses in tall urns, and succulents in tiny cylinders. A clever use of levels can create visual interest and give a sense of thought-out curation.
"Very good service I brought a water feature a steel bowl that goes rusty. Sounds strange but lovley delivery was quick and good."

Discover Planters Perfectly Suited to Your Plants
Browse our extensive range of corten steel planters, in an even wider variety of shapes and sizes – from cubic and rectangular pieces to cylindrical and specialty planters. Choose proportions aligned with your plant's needs and the aesthetic constraints of your garden
Unsure where to begin? Get in touch today. Our team is happy to provide tailored advice to help you determine the ideal planters for showcasing your plants. Describe your landscaping goals and challenges, and we can suggest the perfect corten steel planters and plant pairings suited to your needs.
Typically, around 6 to 9 months.
Yes, we have a wide range of sizes. Please see the product pages on our website to see a drop-down list of available sizes.
Yes, Corten steel resists the corrosive effects of rain, snow, ice, and fog by forming a protective coating over the metal. Corten steel is completely non-porous, meaning that water cannot get into the material to then freeze and effect it.
Yes, it could. Whilst your corten steel item is weathering it will produce a lot of carbon run-off (very fine particles of oxidized metal – rust), which will stain any porous surface it is placed on to, such as stone patios and wooden decking. Once your corten item has completely weathered, the amount of run-off will be significantly reduced to almost nothing. However, there may still be some that could leave marks. The staining should be reduced with the use of a pressure washer. Once your corten item has weathered to a point you are happy with aesthetically, you can seal it using Owatrol Rust Oil. Please note – using a varnish on the corten steel will affect the colour by making it appear darker and 'wet'.