WEATHER RESISTANCE CORTEN STEEL PLANTERS
WEATHER-PROOF CORTEN STEEL PLANTERS
Our specially engineered planters thrive outdoors and develop a stunning, protective patina over time, which helps them to resist just about any weather type. After only a few months of sun, rain, snow, and wind exposure, raw corten steel transforms into a natural work of art.
Time and weather only make them more beautiful. The patina forms as a thick, rust-coloured layer on the surface that resists cracking, fading, and deterioration, avoiding the continual replacement that comes with flimsier planters.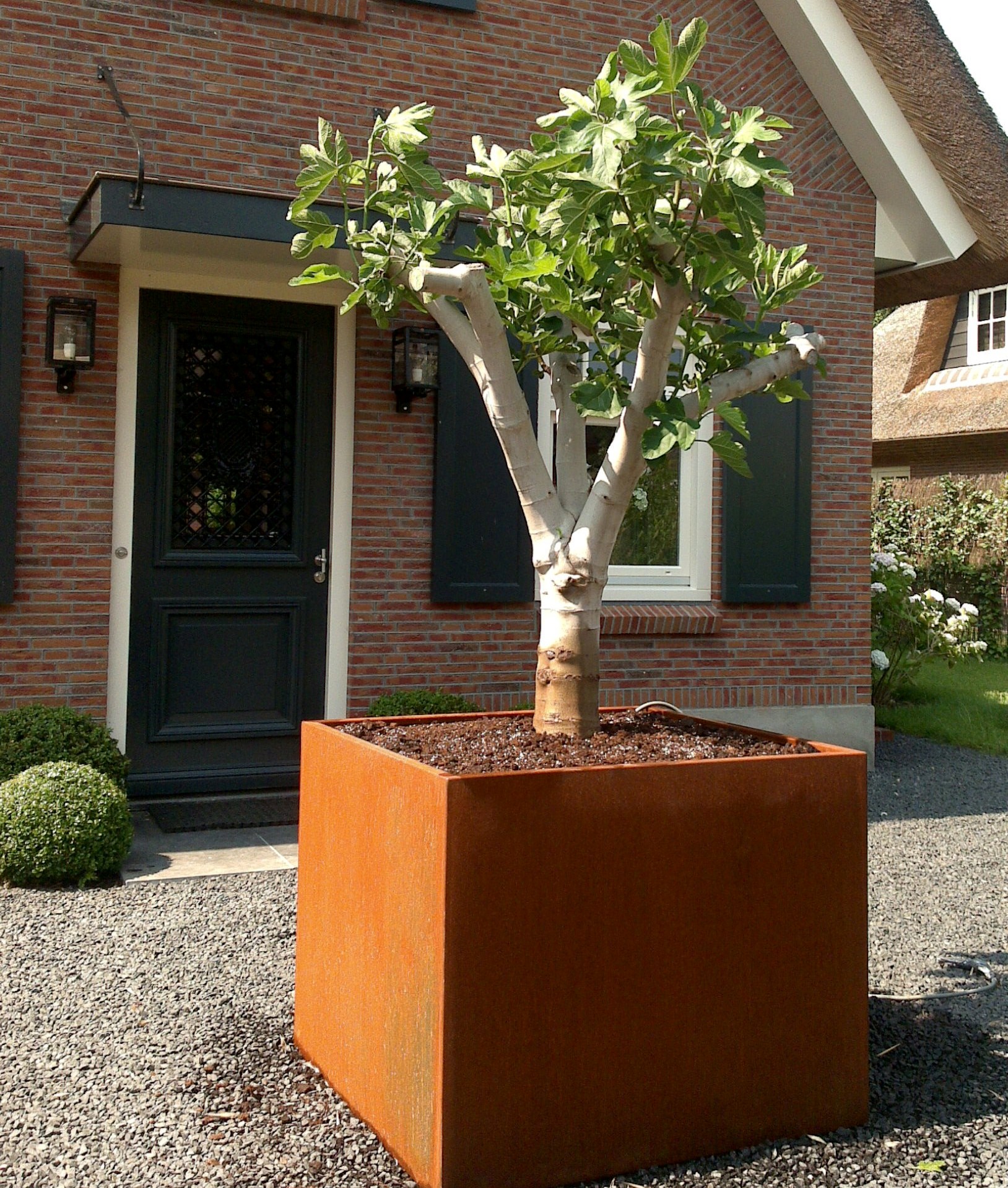 Guide to Weathering Your Corten Steel Planter
Phase 1 – Newly produced corten steel. During this phase, a dense, dark oily substance envelops the surface of the corten steel.
Phase 2 – The oily residue initiates its degradation as the corten steel commences its natural weathering process.
Phase 3 & 4 – The 'Run-Off' phase. This period spans approximately 3 to 9 months, with the right orientation and conditions.
Phase 5 & 6 – The conclusive stages of the process, when the corten steel embodies its signature rusty patina.
The Challenge of Finding Weather-Ready Planters
For homeowners passionate about gardening, investing in a beautiful planter only to see it deteriorate after a couple of seasons outdoors is truly disheartening.
These inferior-quality planters may initially save you money upfront, but their materials lack the durability to survive long-term exposure to the elements and fluctuating temperatures. For example, plastic and resin planters often become brittle and crack after just a year or two. And their colours tend to fade significantly when subjected to consistent ultraviolet light.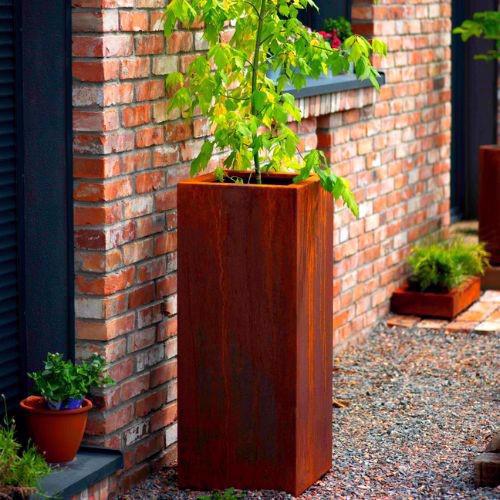 How Corten Steel Thrives Outdoors
Corten steel, also called weathering steel, has a unique chemical composition that transforms it into a highly weather-resistant material when exposed to the elements.
Unlike standard steel, corten steel contains added alloys like copper, chromium, and nickel, which enable corten steel to form a distinct rust patina unlike anything achieved by other metals.
As the patina continues to mature over the first 1–2 years, the rust layer thickens, embodying deeper hues such as amber and chestnut brown, and most importantly shielding the inner steel from further degradation.
While most materials deteriorate faster when exposed to outdoor conditions daily, corten steel does the opposite, transforming into a tougher, more resilient form of its original self, able to withstand just about anything your garden throws at it.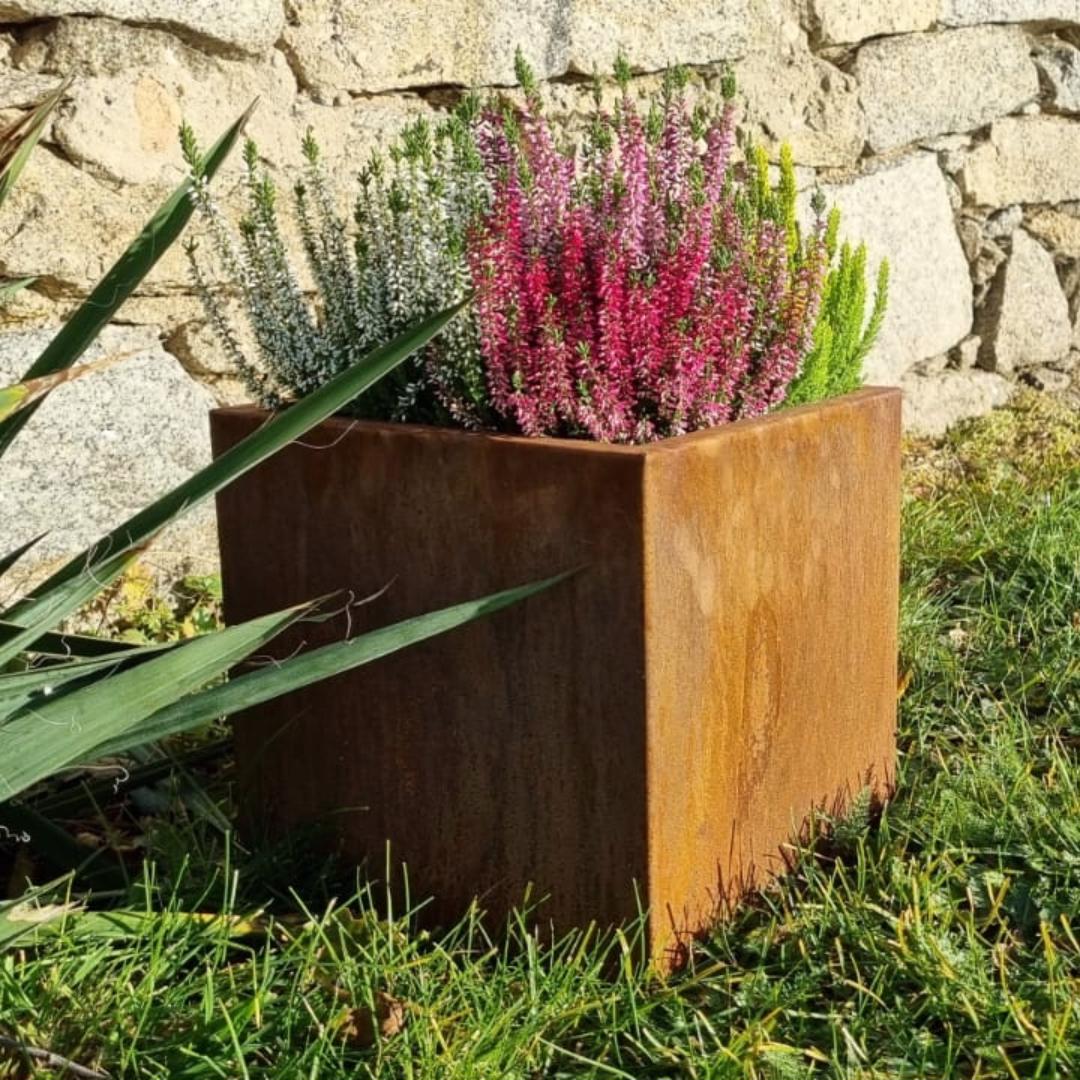 Our Range of Resilient Corten Steel Planters
At Round Wood, you can choose from various shapes and sizes to suit your vision. We offer circular, square, rectangular, tapered, and trough-style corten planters ranging from petite 0.4m designs to 1.2m statement pieces.
Display vibrant floral arrangements in our Cylindro Low Cylinder Round Pots, or create a contemporary geometric look with the crisp lines of our Rectan High Cubic Boxes. The slim Barium Rectangular Troughs are also a brilliant choice for dividing your garden into distinct sections.
Our Rectan Low Cubic Boxes maintain their strong shape despite years of harsh weather, all thanks to their mature patina. Likewise, the petite Conc Tapered Cylinder Pot continues looking charming even after months of UV exposure, freezing temperatures, and gale-force winds.
No matter which corten steel planter you choose, you can trust it to thrive through the hottest summers, coldest winters, and anything in between.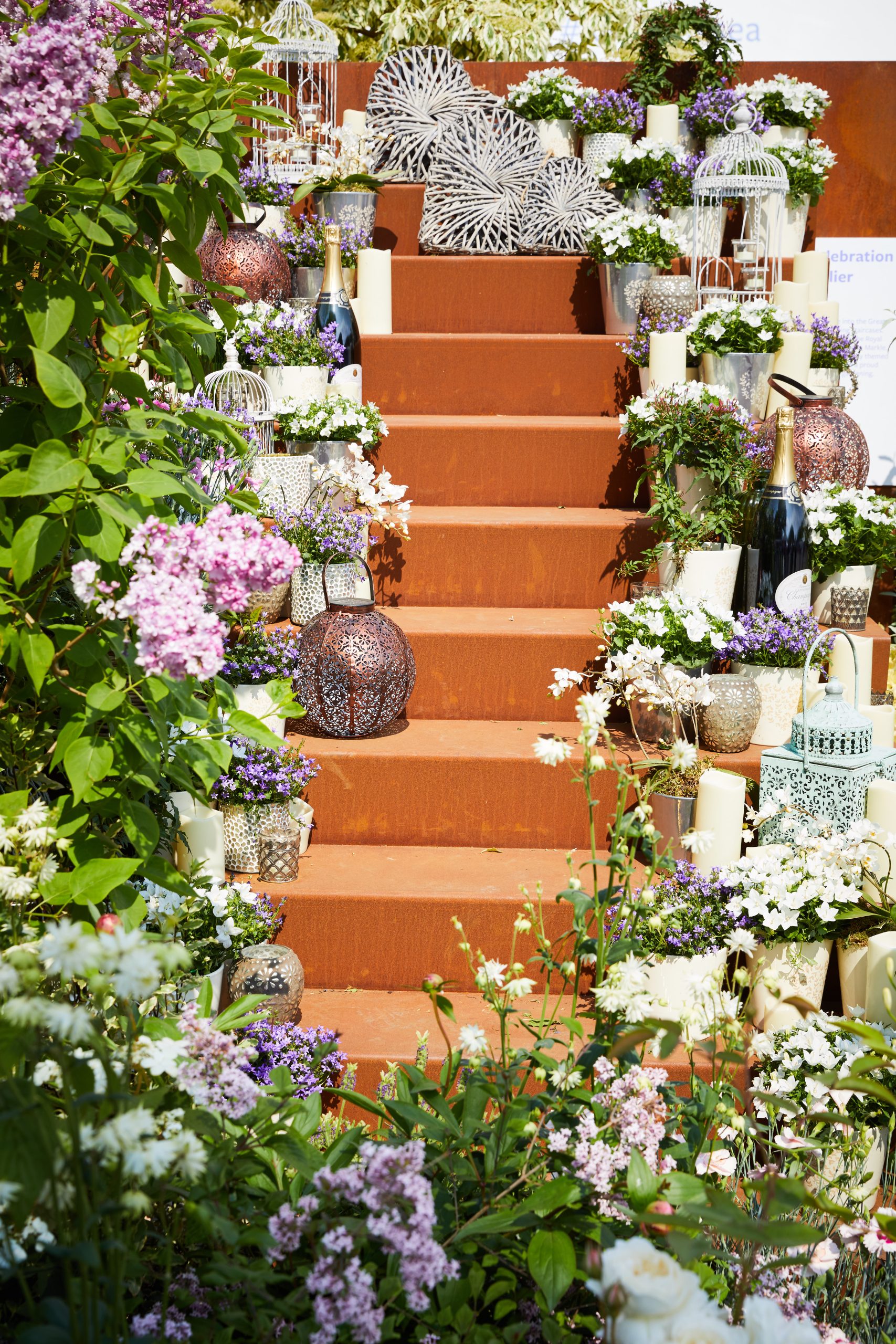 Why Choose Round Wood of Mayfield for Corten Planters?
Our family-run, Sussex business offers an unmatched combination of premium products and exceptional service.
Our experienced team knows corten steel inside out. At our ancient woodland site, we have curated a range that exudes rustic elegance and unbeatable durability.
Our corten steel planters offer resilient performance at a fair price, providing great value through their extreme resilience and longevity.
"Very good service I brought a water feature a steel bowl that goes rusty. Sounds strange but lovley delivery was quick and good."

Find Your Perfect Corten Steel Planter Today
Browse our unrivalled range of expertly crafted shapes, sizes, and patina finishes to find the perfect fit for your garden. Have a specific vision in mind? Get in touch. Our team happily provides tailored advice to help you bring your ideas to life.
Discover the difference of choosing a passionate local business.
Typically, around 6 to 9 months.
Yes, we have a wide range of sizes. Please see the product pages on our website to see a drop-down list of available sizes.
Yes, Corten steel resists the corrosive effects of rain, snow, ice, and fog by forming a protective coating over the metal. Corten steel is completely non-porous, meaning that water cannot get into the material to then freeze and effect it.
Yes, it could. Whilst your corten steel item is weathering it will produce a lot of carbon run-off (very fine particles of oxidized metal – rust), which will stain any porous surface it is placed on to, such as stone patios and wooden decking. Once your corten item has completely weathered, the amount of run-off will be significantly reduced to almost nothing. However, there may still be some that could leave marks. The staining should be reduced with the use of a pressure washer. Once your corten item has weathered to a point you are happy with aesthetically, you can seal it using Owatrol Rust Oil. Please note – using a varnish on the corten steel will affect the colour by making it appear darker and 'wet'.