ENJOY ONE OF A KIND QUALITY WITH CORTEN STEEL
Upgrading your outdoor space with decorative accents that stand the test of time is harder than it looks. Low-cost garden furnishings and decor may initially save you money, but this strategy often ends up costing you more in the long term due to endless repairs and replacements.
If you want to invest in quality materials built to last decades, we have a fantastic and attractive solution.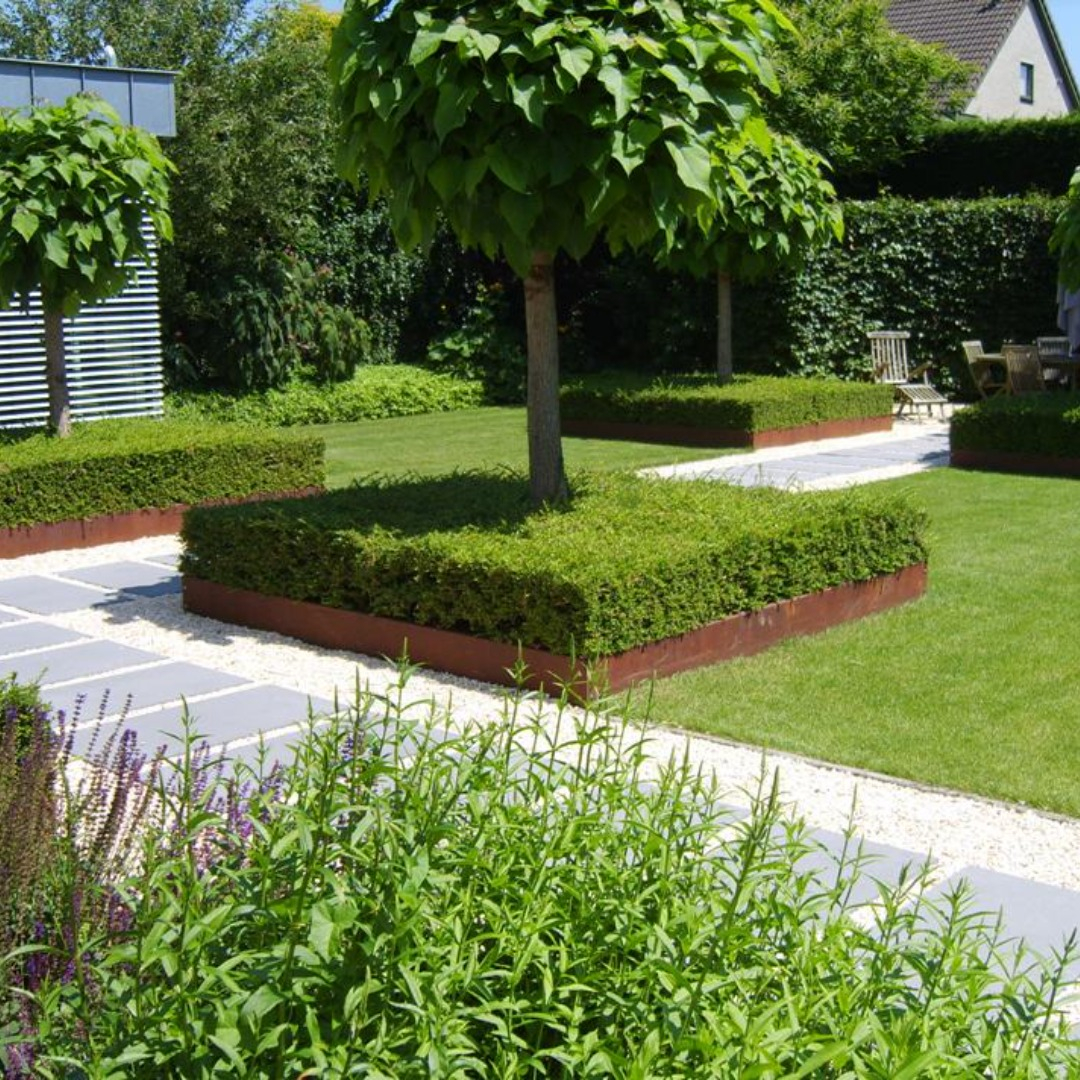 The Impeccable Quality of Corten Steel
Known for its signature rust patina, formed over several months of outdoor exposure, corten steel is a proprietary weathering steel alloy containing copper, chromium, and nickel. This specialised composition forms an attractive textured finish and provides exceptional strength.
Our corten products utilise only marine-grade metals to ensure unmatched durability. Every handcrafted piece undergoes meticulous construction using expert techniques like precision cutting and welding, and we have closely inspected each one to guarantee flawless quality.
The result: corten planters, screens, fire pits, water features, and more, with rich elegance that gradually evolves over decades without demanding a replacement. For refined garden accents built to perform as impressively as they look, discover corten steel today.
The Benefits of Choosing Our Corten Steel
Corten steel provides superior value through exceptional craftsmanship and lasting performance. And choosing from the Round Wood collection grants you several additional benefits, including:
Unshakable Strength: Our exclusive weathering steel alloy provides incredible strength, thickness, and resilience. Corten displays virtually no deterioration for decades, especially when carefully fabricated through our methods.
Little to No Maintenance: Once the protective patina forms over your corten decor, it requires very minimal maintenance. This means no resealing or repainting, which saves you money on your investment.
Recycled and Recyclable: Made from up to 60% recycled steel, our corten steel range breathes new life into salvaged metals, reducing production and mining waste.
Crafted to perfection using quality metals and decades of construction experience, our corten steel offers enduring distinction and performance no other material can match.
In form, function, and value, corton steel is a clear winner.
Get to Know Our High-Quality Range
For lasting distinction and unquestionable quality, explore our range of corten steel garden features, including:
Planters: Choose from geometric cubes, cylindrical pots, and other unique shapes made from 3 mm corten steel. Reliably durable and low-maintenance, they'll make a stunning addition to your garden.
Screens: Define spaces and add depth using our precision-welded panels, each with its own artistic rust textures. Corten's strength lends privacy and elegance to an outdoor space.
Water Features: Relax to the soothing sounds of quality weathering steel fountains, pools, and cascades. Built for generations of performance using the strongest alloys.
Fire Pits: Gather in style around corten tables and cauldrons that provide efficient, clean heat distribution thanks to the properties of this specialised steel.
Statuary: Accent gardens with ornamental corten sculptures, from dragonflies to abstract shapes, that develop nuanced patinas over time.
Edging: Border gardens and paths with linear corten edges that hold their shape and resist degradation over decades. Invest in a refined backdrop to outline any space.
Plinths: Achieve smooth modern seating on solid weathering steel benches and plinths able to withstand constant and heavy use.
Our exclusive corten range offers creative versatility, expert craftsmanship, and long-term durability to all. Contact us to bring your vision to life.
Exquisite Quality With Round Wood of Mayfield

Our passion for quality shows in every handcrafted corten piece we have curated over the last 30 years. Find inspiration from the unique finishes and silhouettes, and see the difference fine materials and workmanship can make to your garden by exploring our corten collections today.
Have an idea but are unsure how to pull it off? Contact our team to begin your personalised consultation. We will listen to your needs, provide guidance tailored to your space, and offer our recommendations on pieces that you and your family will appreciate for decades.