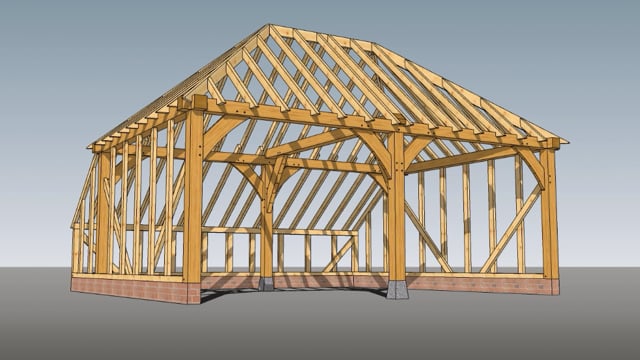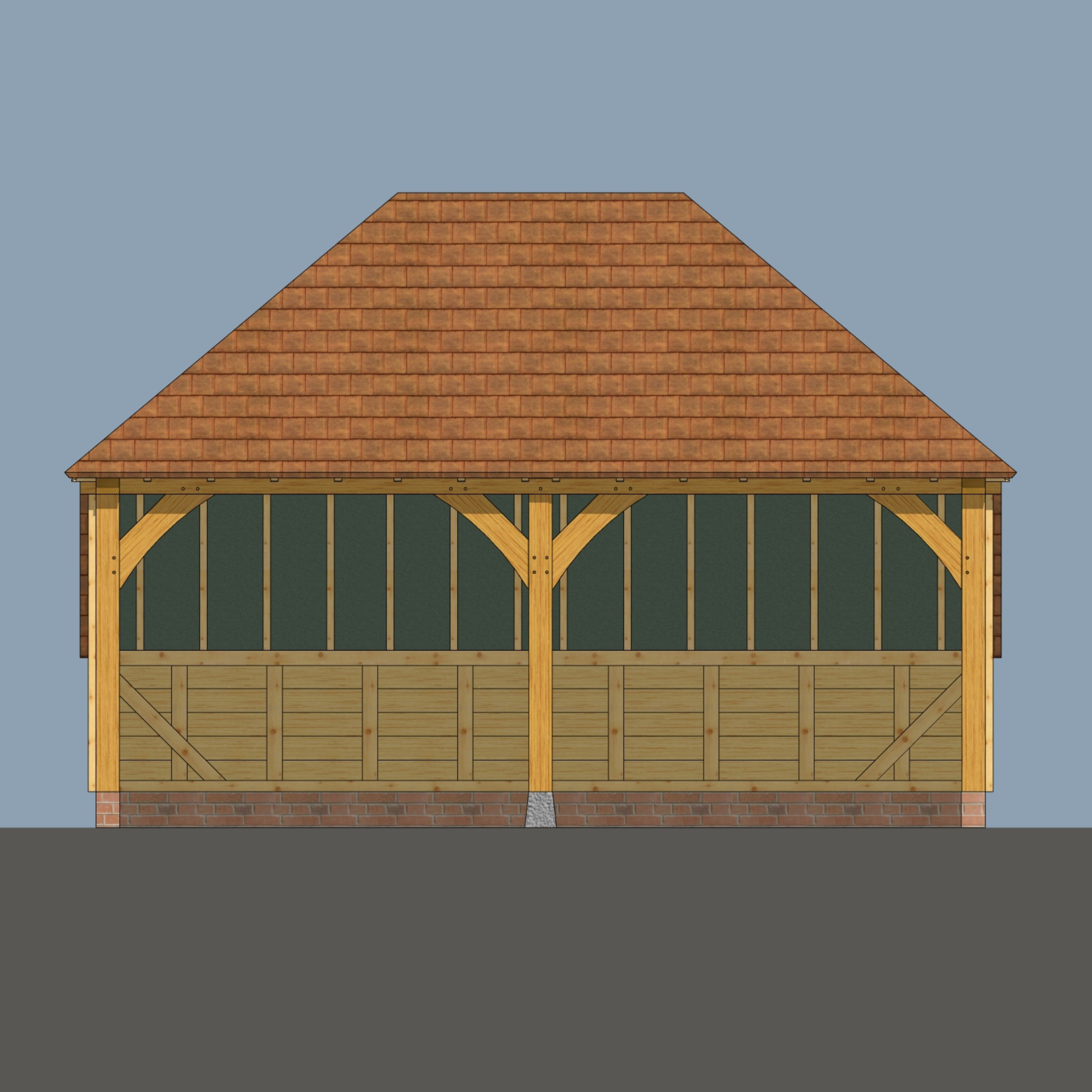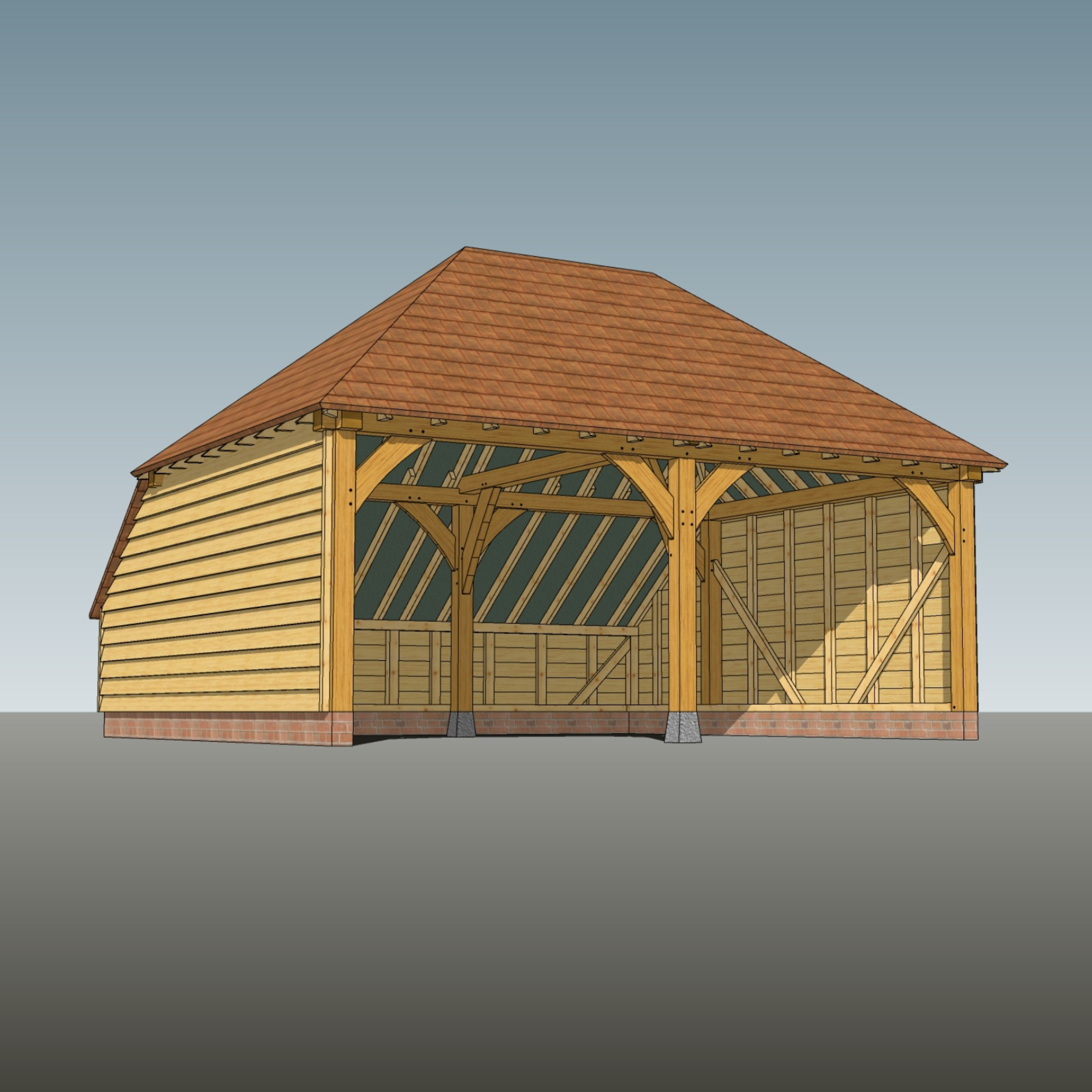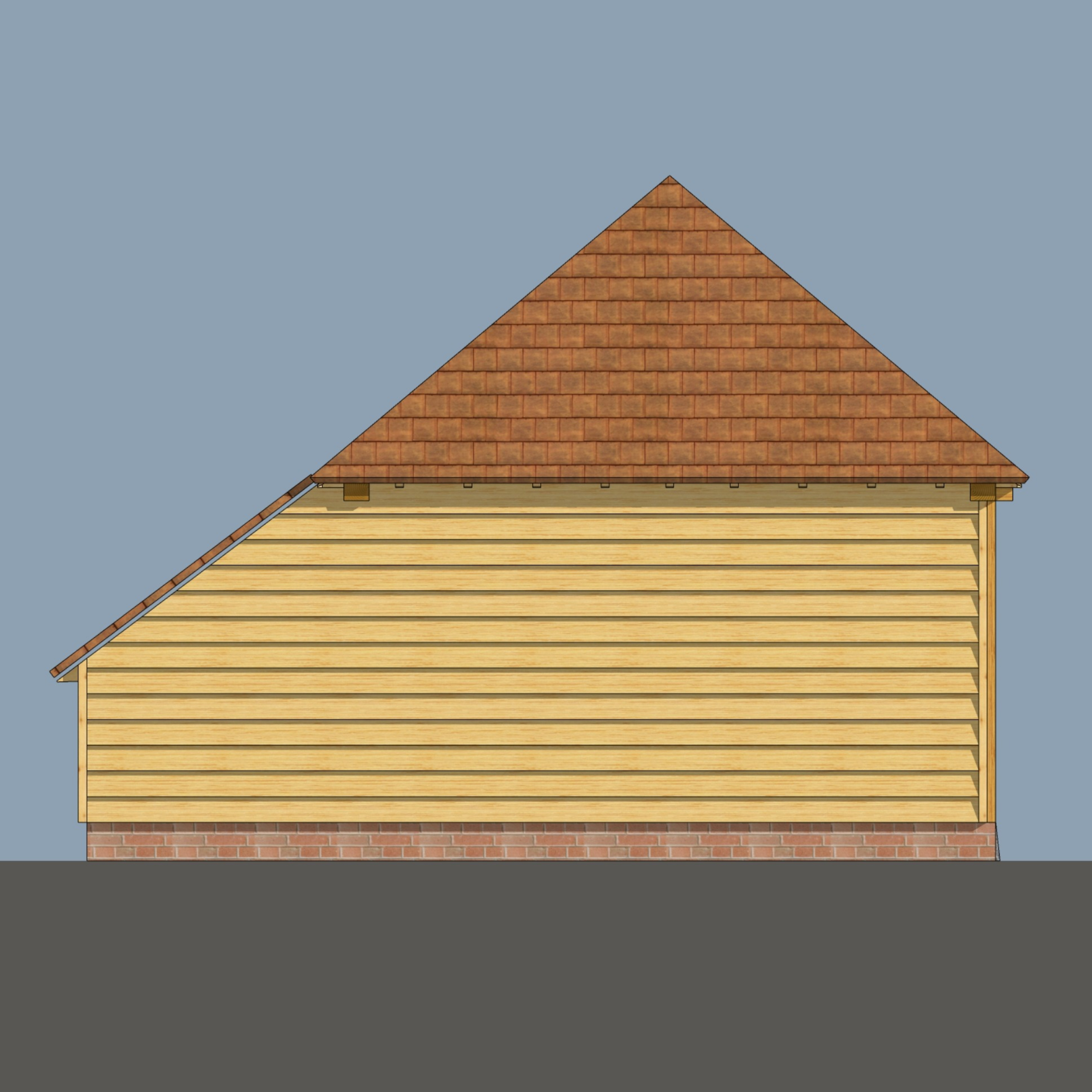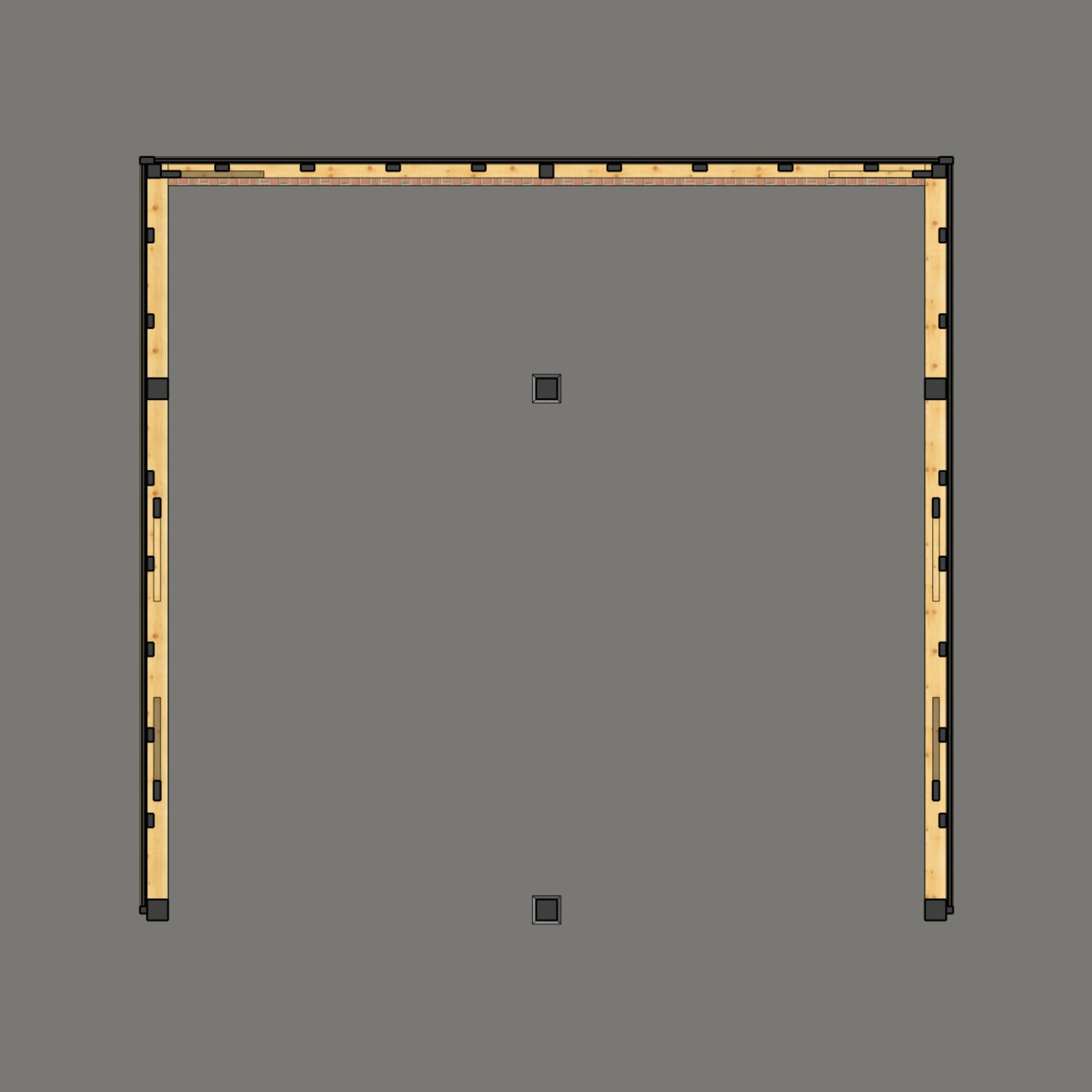 2 Bay Garage CH2H
Our garage designs can be modified to any requirement, including altering the footprint to suit the size of your site.
Price excludes groundworks, bricks, assembly, roofing and delivery. We can arrange these on request.
Request a Quote or call us on 01435 860 260 to discuss your requirements.
2 Bay Oak Frame Garage with Hipped Roof
Footprint: 5.6 x 5.3m
Ridge Length: 1.846m
Ridge Height: 3.895m
Total Hip Length: 13.66m
Roof Area: 43.10m²
Number of Tiles Required (on average): 2586
Number of Round Wood Bricks Required: 226
Approximate Lead Time: 6 Weeks
CH2H Features
Oak posts, eaves & tie beams – 150mm x 150mm
Oak curved braces
Oak kiln dried pegs
Softwood, soleplates, rear aisle, studwork and rafters
Treated softwood featheredge weatherboard ex 200 x 38mm
Granite staddle stones for independent posts
Parts kit – DPC and fixings
All softwood pre-treated
Traditional mortise & tenon joints
Pre-cut roof rafters
Underside of Eaves Beam 2.1m
Ridge height below 4m
Measurement between front posts 2.575m
Rafters at 400mm centres
Main roof pitch 40°
Catslide roof pitch 37°
Step-by-step assembly instructions
All sizes and features can be amended to your specification. See optional features tab for more details.
Some garage designs do not require planning permission and are exempt from building regulations. Please speak to us for more information.
Request a Quote or call us on 01435 860 260 to discuss your requirements.
Optional Features
This garage can be modified to create a bespoke design to fulfil your requirements. This could include:
Altering the footprint to suit the size of your site, including widening bays.
Changing the cross section of the building, for example, to include a full span roof.
Upgrading current features, including replacing softwood weatherboarding with different cladding from our wide range.
Adapting the roof line by changing one or both ends to a hip, barn-hip, gable or gablet.
Adding storage areas such as a half bay or log store.
Please speak to us for more information or complete our quote form below to get a price for your garage design that includes your chosen optional features. See 'Oak Garage Accessories' for additional products to add to your order such as our extra wide bricks or joinery including doors and windows etc.
Planning & Building Regulations
Legislation around the construction of any building can be complex and the ultimate responsibility for ensuring your project meets planning and building regulations lies with you.
Many of our frames meet planning exemption criteria and may be eligible for construction under permitted development rights. Frames being erected near to a border or neighbour, or in an Area of Outstanding Natural Beauty (AONB), however, may not qualify and would typically require planning. We recommend a quick phone call to the local authority to obtain the information that you need and that you check the latest guidance on the Planning Portal.
Specific information relating to outbuildings can be found on the planning portal here.
Planning Applications should be determined by the Local Authority within their statutory 8-week period, which commences when the application has been checked and registered. Unfortunately, the process can take longer if an application is contentious or complicated. Not all planning applications are decided at committee, some are dealt with at officer level under 'Delegated Powers'.
We are able to assist with the Planning Permission process, if required, and can provide Planning Drawings for submission with an application.
As a guide, building regulation approval is usually required if your building has an internal footprint greater than 30m2 or is less than 1m from a boundary with a floor area greater than 15m2. If the building contains habitable accommodation or has a fixed heating system, approval will be required.
Please obtain definitive guidance from your Planning Officer or Building Inspector. Regulations are subject to change and Round Wood of Mayfield cannot be held responsible in this regard.
Please contact our team if you require further advice or a full planning service.
Call 01435 860 260 or email buildings@roundwood.com
GET A QUOTE
Fill out our quick form below to get a quote for your dream oak frame garage.