Round Wood planters help brighten local Supermarkets
Round Wood of Mayfield recently helped dress a Sainsburys and Waitrose with landscape planters as part of the Brighter Heathfield initiative.
The non-profit organisation Brighter Heathfield Volunteers has worked tirelessly for 2 years to make the town of Heathfield a prime example of how a little TLC really does go a long way. Committee member Sue Young has, with her fellow devoted volunteers, come together to achieve Brighter Heathfield's primary objective; "to clear litter and improve Heathfield".
Round Wood, based on Newick Lane just outside the town, recently offered to help the initiative by supplying a selection of planters for the village from their extensive range, which includes fibrestone, clayfibre, terracotta and polystone pots.
The Brighter Heathfield Volunteers meet once a week outside of their local co-op at 10.00 am to discuss that week's goals. Whether it is litter picking, clearing gutters or giving a permitted garden area some attention, everyone can get their hands dirty.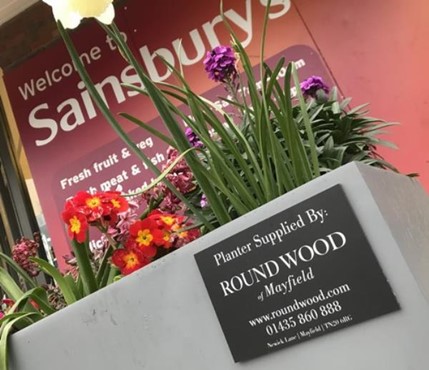 Like all non-profit organisations, it is the sense of community, achievement and love for the cause that allows the Brighter Heathfield Volunteers to make a difference. Brighter Heathfield volunteers is a welcoming and well-oiled machine, Committee members provide the required equipment to the group of volunteers and everyone gets stuck in.
This community effort is really paying off and Sue can do nothing but sing the praises of those involved and those recognising and respecting the work they have achieved "Very sincere thanks must go to the Parish Council for grant funding, various other groups who have made generous donations, shops and premises who have given water, our jacket sponsors and Round Wood of Mayfield".
One of the biggest challenges Brighter Heathfield Volunteers face is how to make the most of communal areas with a small budget. This is where Round Wood of Mayfield was able to step in and offer their support. Round Wood have donated three beautiful Fiberstone trough planters which have found their new homes outside the local Sainsbury's and Waitrose.
The Fibrestone Contemporary Trough Planters were selected in a classic yet contemporary grey to complement both supermarket brands.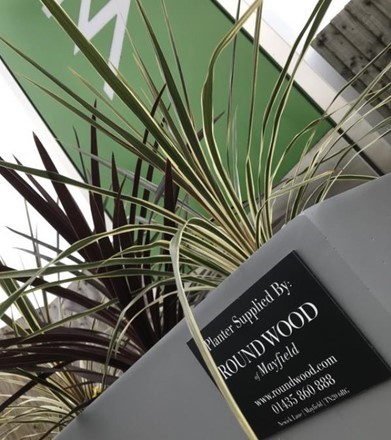 Fibrestone is an ideal material for planters. Whilst it offers the durability of fibreglass, Fibrestone still holds a solid and heavy feel, provided by the stone powder mixed into the composite. Along with being durable, these planters are low maintenance making them an excellent choice for commercial use, with the added bonus of being a fraction of the cost of lead equivalents.
These 1m planters are UV and frost protected allowing Brighter Heathfield Volunteers to keep the local area bright and cheery all year round.
Sue said of the planters: "They have really made a difference to the areas outside of Waitrose and Sainsburys. The grey gives a crisp contemporary look that contrasts well with the store colours and plants that were used."