CORTEN STEEL FOR TRADE PROFESSIONALS
DISTINCTIVE CORTEN STEEL GARDEN FEATURES FOR YOUR PROJECTS
For the last 30 years, we have worked closely with landscape gardeners and tradesmen to help them provide the very best garden features for their products. From atmospheric water features and fire pits to decorative planters, screens, and sculptures – all made from the most robust corten steel compositions.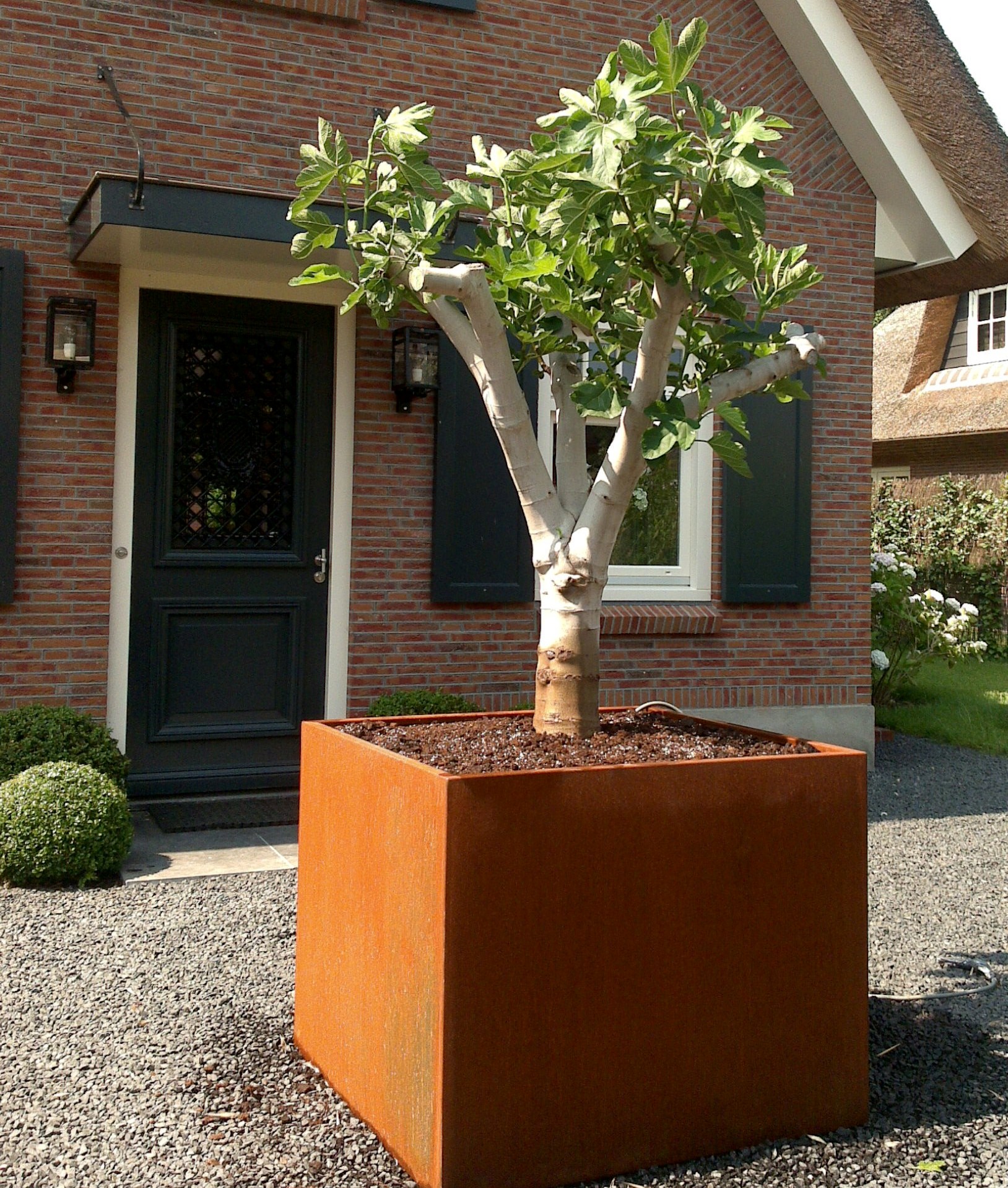 What is Corten Steel?
Corten steel, also known as weathering steel, is a unique building material valued for its distinctive rust-coloured patina and rugged durability. Made from a proprietary alloy containing copper, chromium, and nickel, corten steel develops a stable, protective finish when exposed to weather and the elements.
This handsomely weathered material first emerged in the 1960s, becoming popular in architectural and landscaping applications for its strength, corrosion resistance, and rich character.
At Round Wood of Mayfield, we are thrilled to offer this premier metal, crafted into an exclusive range of garden features to bring timeless beauty to outdoor projects and infuse them with an authentic sense of history and substance.
Why Choose Corten Steel for Your Project?

Corten steel offers unmatched advantages as a contemporary garden material:
Superior Strength and Durability: Corten steel can last for decades without compromise. The alloy has added phosphorus and copper to create a material four times stronger than regular steel, and this high strength resists abrasion, salt damage, humidity, and even UV rays.
Low Maintenance: Once the patina develops, no additional finishing or treatment is required, with the occasional wash enough to keep it in excellent condition. This easy maintenance can save significant amounts of money on paints and sealants over time.
Sustainable and Ethical: Our corten steel garden features are manufactured from up to 60% recycled steel, reducing waste and environmental impact. They also have a long service life, enhancing their value exponentially.
Artistic Distinction: From deep auburn hues to burnt orange tones, corten steel introduces artisanal flair to landscaping projects with its living finish. The natural patina evolves uniquely over seasons, offering plenty of depth and character.
Creative Versatility: Available in a variety of sizes and forms, from planters to water features, corten steel's uses are unlimited. You can also easily cut and weld corten into custom designs that match your creative vision.
Natural Material Warmth: The rustic, yet refined look of aged corten brings a welcoming feel to gardens and outdoor spaces. Corten steel exudes the solidity of stone whilst embodying the worn, velvety texture of aged wood.
By harnessing corten steel's strength, sustainability, low maintenance, and rich character for your landscaping or design project, you can create a charming outdoor space that gracefully withstands time.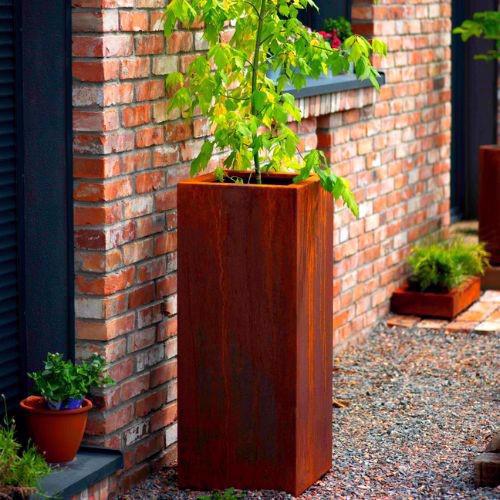 Overcome Common Obstacles with Corten Steel
Even experienced landscape designers and architects face recurring challenges that complicate their creative process.
Corten steel's unique blend of strength, character, and ethical production offers advantages that few other materials can match, working to tackle these challenges head-on.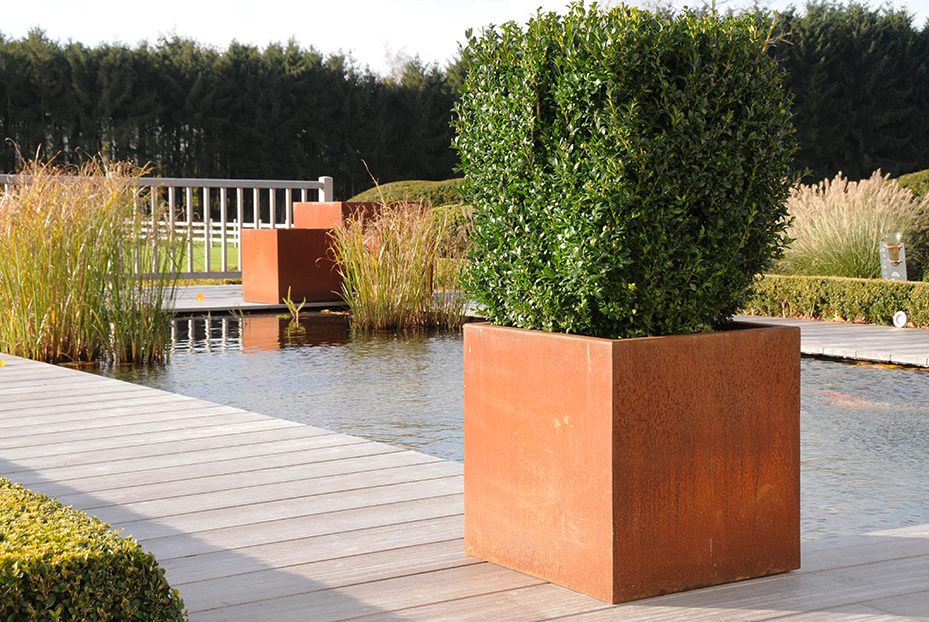 An Extensive Range
A constant challenge facing professional garden designers is sourcing distinctive materials that align with their creative vision. Standard bricks, woods, and stones provide conventional choices, but this can limit a designer's ability to create the unique, modern, and nature-inspired spaces clients increasingly demand.
Available in varied forms, our corten steel planters, water features, screens, and accents offer unprecedented versatility. With the industrial flair of its signature rust patina, you can integrate depth, texture, and an urban edge into your garden projects.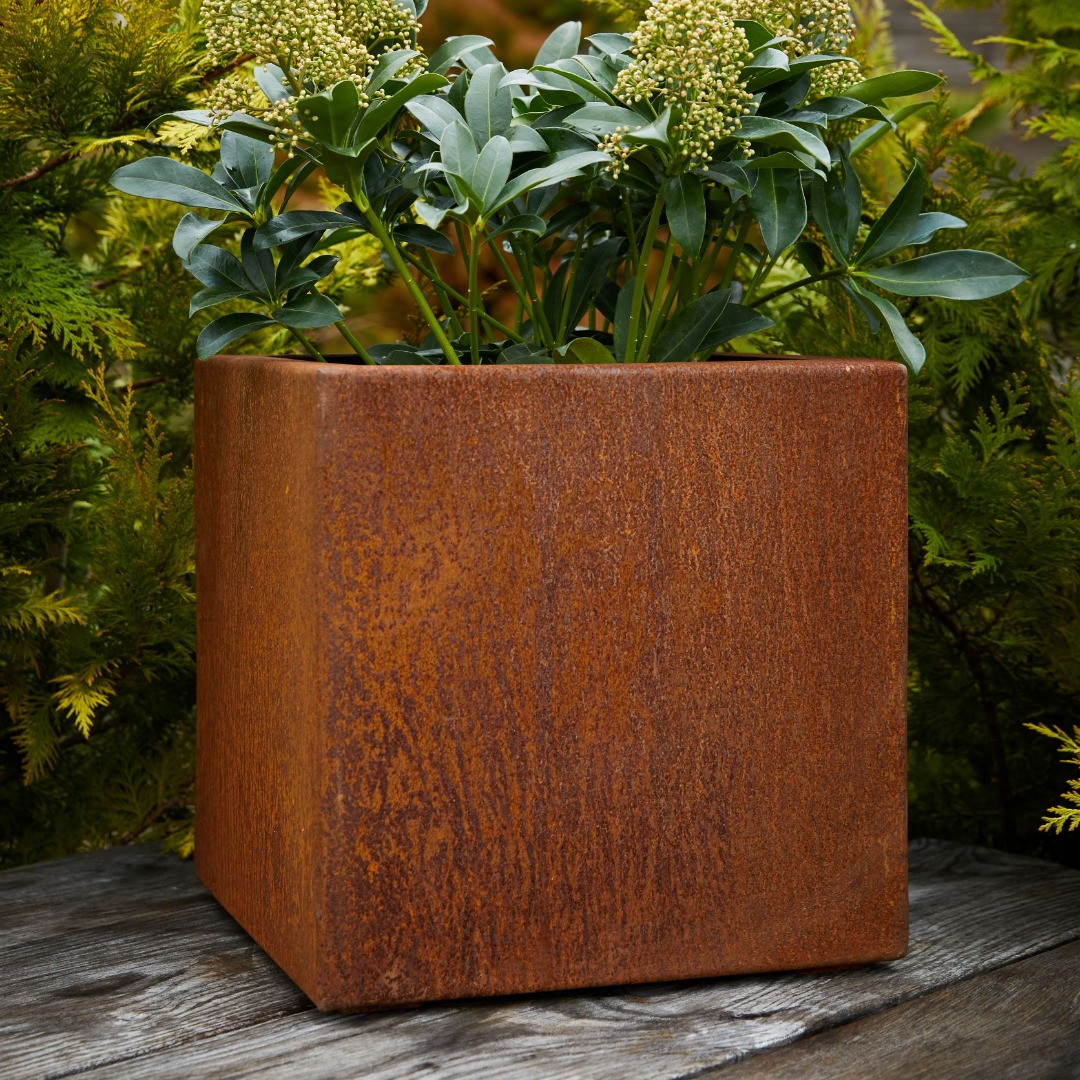 Features Built to Last
Stone degrades, wood rots and metals corrode, a natural process that requires frequent replacements and refinishing, and causes headaches for designers who want their clients' gardens to remain pristine for years.
Corten steel provides unrivalled longevity, with an alloy composition and rust patina that protects against corrosion, retaining the steel's integrity through decades of exposure. Once this patina forms, no additional sealing or painting is required.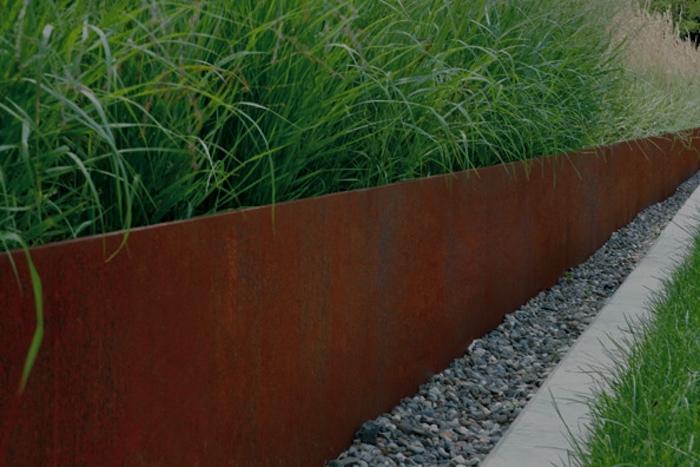 Custom Artistic & Architectural Features
Garden designers often seek versatile materials that can be shaped into one-of-a-kind artistic features, or integrated seamlessly into a landscape's architecture. However, commonly used natural stones, wood, and metals can be difficult to work with.
Corten steel's inherent malleability and strength break through these barriers. It can be laser cut, folded, welded, and manipulated, unlocking vast potential for custom architectural and sculptural pieces.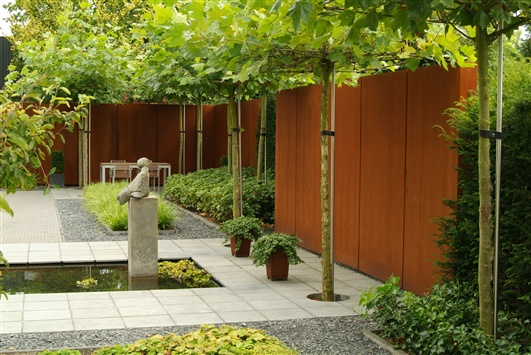 Integration with Natural Surroundings
An ongoing struggle facing landscape professionals is sourcing materials that integrate with the surrounding natural environment.
Corten steel's organic patina provides an elegant solution, allowing it to blend seamlessly into garden surroundings. And as our corten planters, edging, water features and accents slowly weather, they complement nearby stones, plants, and groundcovers, with colours and textures that match the earthy hues found in nature.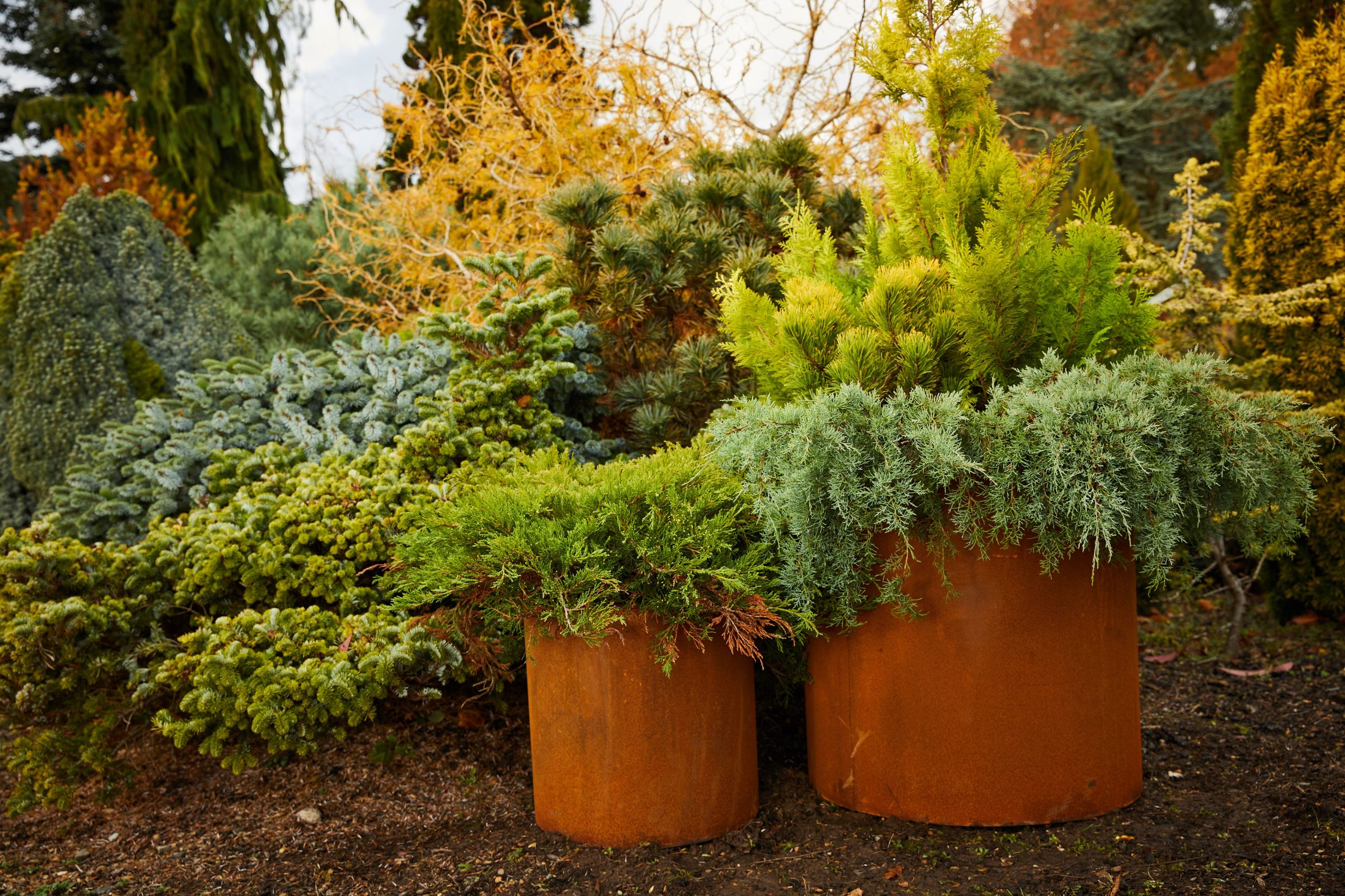 Upholding Eco-Friendly & Sustainable Values
Sourcing ethical, eco-friendly building materials is essential, but many mainstream options are unsustainably harvested, use harmful chemicals, or lack longevity. This forces designers to make tough trade-offs.
Corten steel reconciles your sustainability values with your creative vision. Made from 60% recycled steel, corten actually minimises environmental impact. Our features also require no chemical treatments, as they weather naturally over time and help your clients avoid frequent replacements and wastage.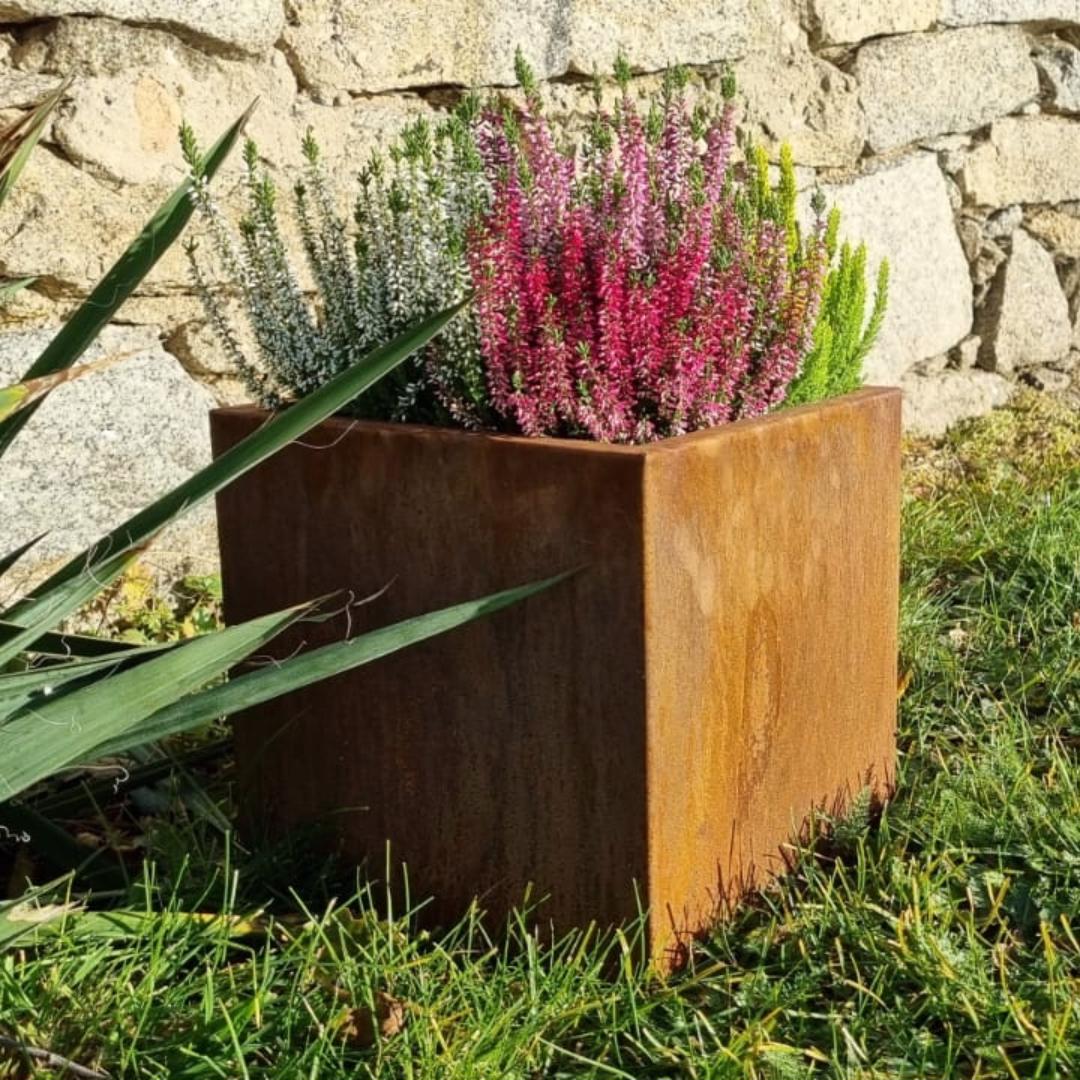 Achieving Client Satisfaction With Unique Looks

One of the toughest challenges facing professional garden designers is differentiating their work in a crowded marketplace. With so many professionals offering similar services, standing out is key to attracting clients and ensuring their satisfaction.
Corten steel provides that competitive edge. With its unique rusted finish, you can easily introduce a contemporary aesthetic into your work that few can find elsewhere. Plus, the customisation potential unlocks opportunities to tailor designs to each client's personality and needs.
"Very good service I brought a water feature a steel bowl that goes rusty. Sounds strange but lovley delivery was quick and good."

Our Corten Steel Range
Round Wood of Mayfield offers the UK's most exclusive selection of premium corten steel garden elements, to bring timeworn beauty to your outdoor projects.
Our corten collection includes:
Planters: From classic cubes to cylindrical pots, our corten steel planters are available in an array of sizes.
Water Features: Choose from water tables, birdbaths, and reservoirs handcrafted from thick corten steel.
Edging: Define and border garden beds, pathways, or lawns with our expertly designed steel edging.
And More: Warm up your garden on cool evenings with contemporary steel fire pits, sculptural accents that introduce artistic flair, and our privacy screens aid in designating intimate spaces within your garden.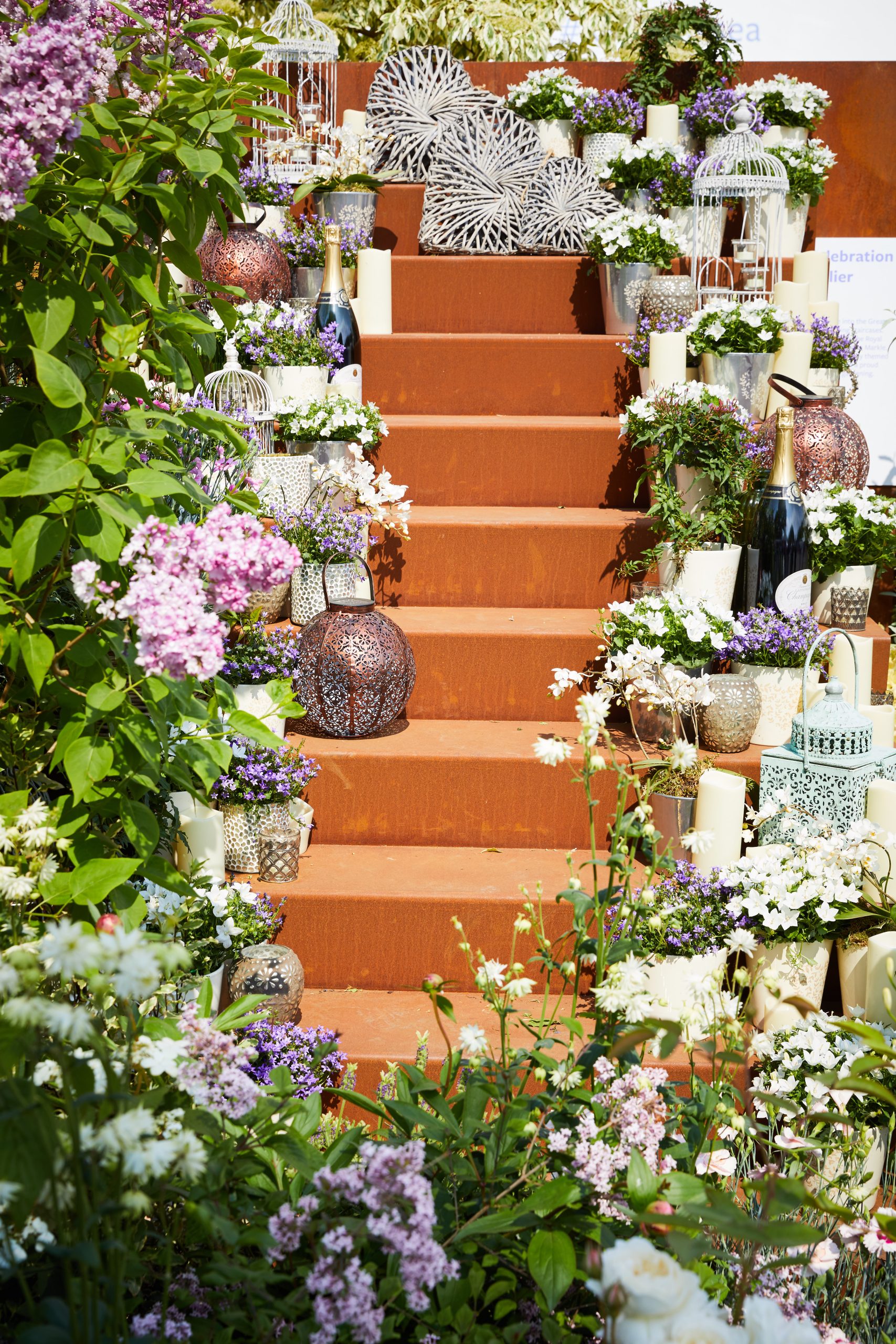 Why Landscapers & Designers Trust Round Wood of Mayfield

With over 30 years of experience, we stand as one of the leading suppliers of premium corten steel garden elements in the UK. When you rely on us as your trade partner, you can expect:
Exceptional Quality & Craftsmanship: Our corten collection has been crafted to the highest standards, with diligent attention to detail at every step. We have handpicked each piece from a range of reputable designers, with strict quality control and precision manufacturing.
Responsive Customer Service: Our team provides friendly, prompt customer service to ensure you get the information and support you need, when you need it. From guidance on selecting the right corten steel products for your project to streamlined ordering and rapid fulfilment, we make the process easy and painless.
When you work with Round Wood, you gain access to the highest calibre of corten steel products, backed by unmatched quality, service, expertise, and logistics.
Incorporate Our Corten Steel Garden Features Today
Our corten steel garden features offer the versatility and durability that exterior designers require. So for exceptional quality, artistry, and timeless character, look no further than Round Wood of Mayfield.
Typically, around 6 to 9 months.
Yes, we have a wide range of sizes. Please see the product pages on our website to see a drop-down list of available sizes.
Yes, Corten steel resists the corrosive effects of rain, snow, ice, and fog by forming a protective coating over the metal. Corten steel is completely non-porous, meaning that water cannot get into the material to then freeze and effect it.
Yes, it could. Whilst your corten steel item is weathering it will produce a lot of carbon run-off (very fine particles of oxidized metal – rust), which will stain any porous surface it is placed on to, such as stone patios and wooden decking. Once your corten item has completely weathered, the amount of run-off will be significantly reduced to almost nothing. However, there may still be some that could leave marks. The staining should be reduced with the use of a pressure washer. Once your corten item has weathered to a point you are happy with aesthetically, you can seal it using Owatrol Rust Oil. Please note – using a varnish on the corten steel will affect the colour by making it appear darker and 'wet'.